For some reason I wanted to make a loaf with a purple swirl... probably because purple is not a standard bread color, and I am not a standard bread man.  I tried this recipe and it turned out good. Just divide the recipe in half, and make two seperate doughs. For one of the doughs, replace the water with an equal amount of liquid from boiled red cabbage. I took a head of red cabbage, shredded it, then cooked it with 2 cups of water in a large pot for 30 minutes. Strain the liquid out, let it cool, and use it to make the purple half of the dough. 
Ingredients: (total for both doughs)
4 cups bread flour
1/2 teaspoon instant yeast
2 teaspoons salt
2 1/4 cups water
Instructions: (remember you are making TWO doughs)
Combine all the dry ingredients (flour, yeast, salt) in the large bowl and stir with spoon for about 15 seconds.
Add water to the bowl and stir for about 1 or 2 minutes (it won't look that good but that doesn't matter).
Cover the top of the bowl loosely with plastic wrap.
Let sit on counter top for about 12 to 16 hours (I ussually do this for about 13 hours), the dough will look all bubbly on the top when done rising.
Generously sprinkle flour the top of your clean counter top or a cutting board (don't worry about using too much flour, it won't hurt it).
Slowly pour the dough from the bowl on to the floured surface, using the silicone spatula to help it peal off the sides of the bowl.
Sprinkle a little flour on top of the dough and rub your hands together with flour.
With you hands, gently stretch each dough out to a rectangle shape.
Lay the purple dough on top of the white dough.
Roll up the dough from one end to the other.
Place the dough into a lightly greased bread pan (seam side down).
Let dough rise till it is a bit above the top of the bread pan (about double in size or 1 to 1.5 hours).
Pre-heat the oven to 450 degrees.
Place bread in the oven for 30 minutes.
Remove from oven, dump bread out on a cooling rack or your counter top and allow it to cool.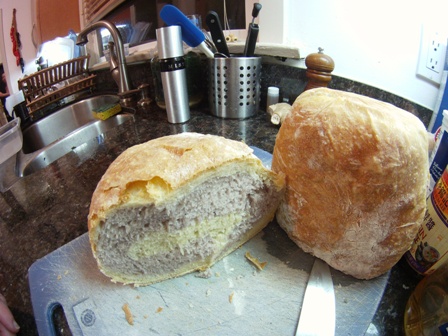 No detectable flavor from the cabbage, but the color just begs, "eat me!"