Goji Muffins with Mixed Whole Berries, Citrus and Pecan topping!
I wanted to use some Goji berries in my baking and so I thought muffins would be a good start.  I purchased the softer more like raisins dried berries from Whole Foods.  The combination of whole berries, with a pecan topping made a delicious breakfast or snack muffin.  The  fresh candied orange peel I recently made was a great tasting combination with berries, especially the goji berry.  The recipe is my version of Blackberry Muffins from Williams - Sonoma Muffins book.
Topping:
90 g sugar
3 TBsp. All Purpose Flour
2 Tablespoons Unsalted butter - softened room temperature
Pecans chopped small - 1/3 cup  - 45g
MUFFINS
2 cups - 315g Plain All Purpose Flour
185g - 3/4 cup Sugar
2 teaspoons baking powder - Fresh
1/2 teaspoon baking soda  - ditto
1/2 teaspoon cinnamon
1/4 tsp. sea salt
1 Large Egg - lightly beaten
5 TBsp. 75g - unsalted butter - melted 
1 Cup - 250g - 8 oz - Buttermilk
 250g - 2 Cups of Fresh Whole Fruits - I used a combination of Goji, Blackberries, Blueberries and Candied Orange Peel
Preheated Convection Oven 375F
I used my XLarge 6 muffin pan with muffin liners - Or you can make 12 smaller muffins - Spray or use muffin paper liners
To Make The Topping:  In a Small Bowl 
Stir together the sugar, flour.  Rub in the softened butter to make a nice crumbly mixture, add the pecans and combine.  Set aside
To Mix the Muffins:
In a bowl, stir together the flour, sugar, baking powder, baking soda, cinnamon and salt.
Make a well in the center and add the egg,  cooled melted butter, and buttermilk.
Stir/ using a folding motion, just until evenly moistened.  Batter will be a little lumpy..do not over mix or you will have tough muffins...very important.
The batter will be slightly lumpy.
Fold in the Fruits, use a large spatula, gently.  Do this using only a few strokes, being careful not to break the blackberries.  Do not over mix
Spoon the batter gently filling each muffin cup.  Do not push the batter down into the cups.   Fill up to the rim.
I scooped up a handful of topping and gently cupped my hand over the top of the muffin laying the topping on with a gentle push into a rounded mound.  
Bake until light golden brown, and springs back at the touch.  25 to 30 minutes, rotating the pan halfway through the bake.  
Cool on a wire rack for 10 minutes and then remove from the muffin pan.
Serve warm or room temperature.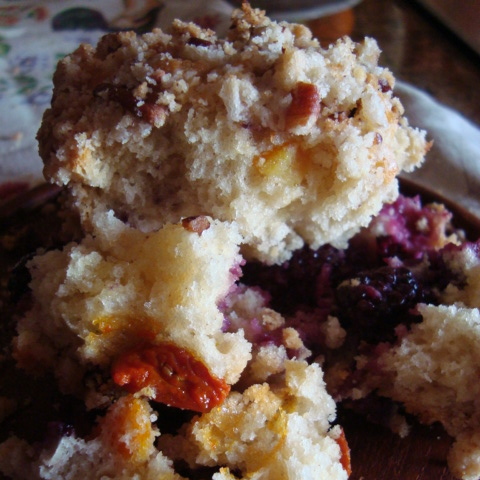 See the moist Goji berry with it's tiny seed, it's eatable in this healthy power packed berry.  Use them like you would raisins.  They taste somewhere between a cranberry and a cherry, with a slight sweetness and flavor that I think is enhanced with candied orange peel.
        Sylvia