February 24, 2011 - 4:19am
SFBI Miche - one of the tastiest bread I've made so far
I finally got around to make the famous SFBI (San Francisco Baking Institute) Miche the past weekend. I have been wanting to try this recipe for sometimes after reading so much rave reviews from the TFL members.  
The recipe was posted by David (dmsnyder). Many of the TFL members have made this Miche and all reported fantastic results (many thanks to David and all TFLers who baked the bread and share their results). 
The bread has a mixture of bread and whole-wheat flour in the starter. The recipe also contains wheat germs, which was toasted before the mixing. I have never baked with wheat germs before, or have any wheat germs for that matter. The aroma of toasted wheat germs was fantastic. It has nutty and sweet aroma and give the earthy flavour to the bread.
The original recipe yielded one 2-kg Miche. It was suggested not to scale down the recipe, or you'll be sorry if you do, as the bread was really nice. I didn't scale down the recipe, but instead, I scaled it up to 3-kg batch for two of 1.5-kg Miches.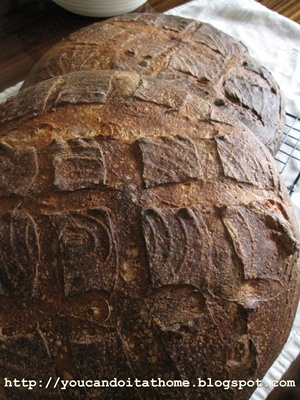 The dough was soft, silky and nice to work with. I was surprise how well the gluten has develop with little effort. I almost did ZERO kneading but the gluten seems to develop itself from the very beginning, which I was wondering if it was the result of high hydration.
It is one of the tastiest bread I made so far. I love its chewy crumb, crackling crust, and pronounced sourness (which I wonder if it has anything to do with whole-wheat flour in the starter).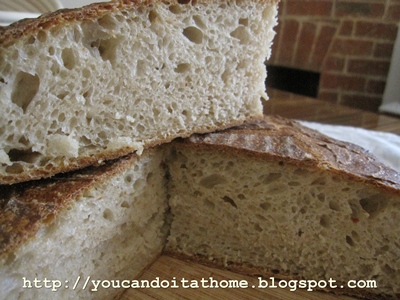 I have also posted about this bake in my blog, here.
Sue
http://youcandoitathome.blogspot.com