February 14, 2011 - 11:34pm
Team USA Beer Bread from Peter Reinhart's Crust and Crumb
I love beer breads, so when I saw the Team USA formula featured in Crust and Crumb (Reinhart) I had to try it. 
Reinhart points out that this formula is a bit unusal because it utilizes two distinct preferments (three, actually, as Reinhart says in the notes, when you include the beer).  It uses a firm starter made up from a barm as well as a pate fermente (old dough).  I used Beck's beer, which I had on hand instead of an amber ale.  I made the barm/firm starter and pate ferment from scratch using the formulas in the book. I also roasted my own diastatic malt powder to deactivate the diastase enzymes since I do not have non-diastatic malt on hand and don't have much call for it.  Toasting worked out just fine, but I was not prepared for all the smoke.  (Maybe I over-toasted it just a bit.)
I baked this bread with Pendleton Mills Power, home-milled hard white winter wheat, and Wingold Dark Rye flour.  I substituted 1 ounce of coarse rye meal for an equal amount of rye flour.  I found the formula produced too dry a dough on just the water called for (1/2 Cup) and had to increase that to roughly 1 1/4 Cup total.  Some of this is probably due to the home-milled whole wheat flour, which I find to be pretty thirsty in all cases.  More of it is probably due to the coarse rye meal.  The dough balanced out at a very nice texture with the additional moisture and my old Bosch mixer never broke a sweat on the four-loaf load, even with the several extra minutes of heavy work it had to put in while I adjusted the hydration.  Total mixing time came out close to 13 minutes.
After fermenting, degassing and fermenting again I shaped the dough into free-form oval loaves and proofed them in pairs on parchment.  They were scored and baked in pairs on parchment on my baking tiles under a roasting pan lid preheated with the oven to 475F.  I misted the loaves liberally before loading them into the oven, and again just as I lowered the roasting pan over them.  I found baking times somewhat shorter than called for in the book, but that is expected given the shape I used.  Boulles would probably have taken the prescribed amount of time.
This formula produces four loaves of bread.  I could not find a pleasing way to fit all four into my basket, so here are three of the four.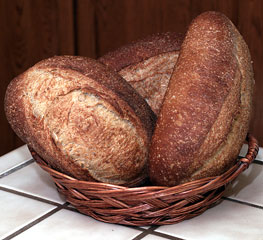 The crumb looks like this: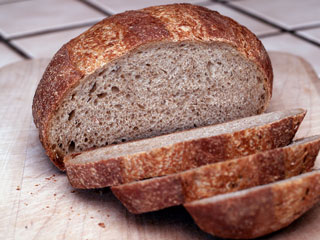 Calling this "beer" bread has a point, in that the addition of a nice fully hopped brew should add an additional flavor dimension of hoppy bitterness that is subtle and enhancing rather than strong and overpowering.  Perhaps I should have gone and bought the amber ale called for and drank the Beck's with lunch.  In any event that flavor dimension was not very prevalent in these loaves.  They are good, but I think these would be more accurately called whole wheat and rye.  I accept responsibility for that, for both the beer selection, which weakened that flavor component, and for the inclusion of the rye meal, which gave the bread a stonger rye flavor.  I'm certain this combination of divergences does not do justice to the original flavor.  The beer does add a softness to the crumb however, that is an excellent offset to the chewiness (IMHO) of bread flour.  The crust is not a crispy french bread crust that shatters when you cut into it, but has a very agreeable chewy bite that is also very flavorful.  Overall this is better than average bread, and I will make it again.  Next time I will get the proper amber ale and leave out the rye meal to see what difference it makes.
Thanks for stopping by
OldWoodenSpoon