February 12, 2011 - 5:34pm
Sprouted Spelt Bread - a Variation of a WGB Recipe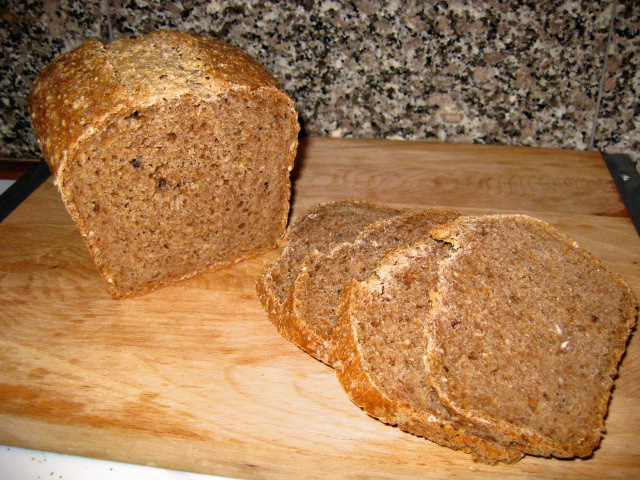 I made this variation of Peter Reinhart's "Whole Wheat and Sprouted Grain Bread" (from WGB) with spelt - I had just bought a 20 lb bag of spelt kernels, and generally like the taste of spelt better than of whole wheat. Instead of a biga I used a starter, added an overnight cold bulk fermentation, and coriander for a hint of spice. The bread rose quite nicely and tasted very good.
SPROUTED GRAINS
175 g spelt kernels
350 g water
 
STARTER
63 g whole wheat mother starter
191 g spelt flour
142 g water
 
FINAL DOUGH
283 g sprouted spelt kernels
all starter
57 g spelt flour
14 g vital wheat gluten, (optional)
8 g salt
7 g instant yeast
21 g honey
14 g butter, melted, or vegetable oil
⅛ - ¼ tsp. coriander, ground, (optional)
57 g water , (saved from soaking grains - add slowly, it might be too much)

DAY 1

Rinse spelt kernels and soak them with water for 12 - 24 hrs., at room temperature.


DAY 2

MORNING:
Drain grains over a bowl (save water for final dough). Rinse soaked grains, cover, and let sprout at room temperature. Little tails should appear within 3 - 6 hrs (if not, rinse and drain again). As soon as little tails show, sprouted grains are ready to use. Use or refrigerate immediately.

Prepare starter, and let sit at room temperature.

EVENING:
Grind sprouted grains to as fine a pulp as possible (food processor). Beware of overheating, if pulp begins to feel warm, stop and let it cool for 10 min. before continuing.

Combine sprouted pulp with starter, spelt flour, wheat gluten (if using), salt, yeast, honey, butter, coriander, and 1/4 cup/57 g of the soaking water. Mix at low speed for 1 min. with dough hook to bring ingredients into a ball, adding more water or flour as needed.

Continue mixing for 4 min at medium-low speed, scraping down walls of bowl occasionally (dough will be a sticky ball). Let dough rest for 5 min., then resume kneading for 1 min. Dough should be soft, supple and very tacky.

Transfer dough ball to oiled bowl or 1-quart plastic container, rolling it around to coat with oil. Cover and refrigerate overnight.


DAY 3

Remove dough from refrigerator 2 hrs. before using.

Preheat oven to 425 F/218 C, with steam pan. Shape dough into sandwich loaf (or bâtard) and place in greased 4 x 8.5" loaf pan. Cover, and let rise for 45 - 60 min. at room temperature, until it has ca. 1 1/2 times its original size.

Place bread in oven, pour 1 cup boiling water into steam pan, and bake at 350 F/177 C for 20 min. Rotate loaf 180 degrees and continue baking for another 25 - 30 min. (Internal temperature should be at least 200 F/93 C).

Remove bread from loaf pan and let cool on rack for at least 1 hr. before serving.