February 11, 2011 - 9:15am
Multigrain Sourdough Bread in wood fired oven.
I've been a long time viewer of this wonderful bread site and after much consideration I thought I'd post my own message. The bread bug has bitten me hard and I've been afflicted for the last 3 years attempting to make beautiful and tasty bread. The bread in this post is made in my backyard oven on wheels.  It's a Mugnaini oven put on a trailer which my uncle and I built about a year ago (Mar 2010).  Since building, I've thoroughly enjoyed the process of bread baking or pizza making as well as roasting delicious chickens, legs of lamb, and standing rib roasts.  After building the oven, my significant other and I attended a hearth bread making school at Quillisascut Farm in the state of Washington. It was a wonderful experience with great people and instructor that stepped us through the art of breadmaking in an Alan Scott design wood fired oven. 
I've attached a picture of the oven in backyard.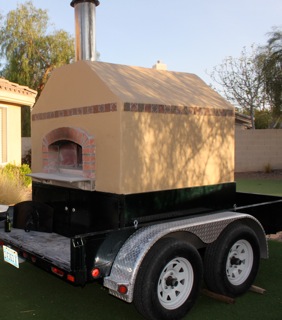 The bread made was adapted from Hamelman's Multigrain Sourdough, using sesame, flax, and sunflower seeds.  I've made this bread a couple of times and baked in my kitchen oven using a pan filled with lava rocks to create.  In this case, I doubled the home recipe, and baked outdoors, using a hot wet towel in a roasting pan, with hot water poured in the pan to create steam.  Met an artisan baker at the huge bread conference last fall in Las Vegas who recommended this technique.
This is picture of steam rolling out of oven after about 10 minutes prior to baking.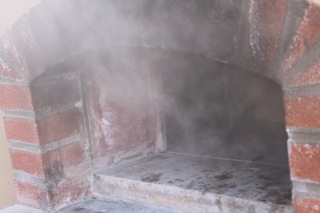 After loading oven with bread, I had to take a peak.  I know I should've waited, but it didn't seem to affect the bread.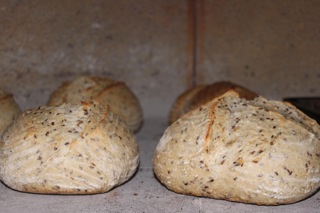 Picture of loaves.  Roasting pan with wet towel seen on right side of loaves. Dark spot on left side of photo.
I baked the loaves approximately 30 minutes.  The oven floor was 500-550 degrees when I started.  The last two pictures are the finished products.  I share a lot of the bread I make with my Mom and Dad, neighbors, or other family members.  When I finished I had two construction guys at the house and after cooling the bread for an hour or so, shared with them.  I always get excited to cut into the bread to smell the aroma and taste.  The work crew and I love this bread's nutty flavor and aroma.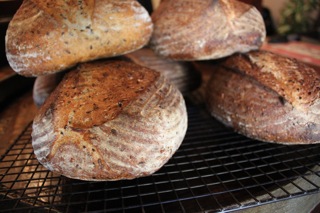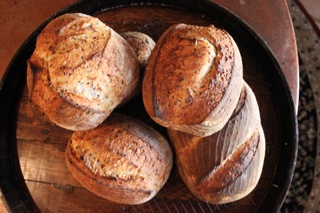 Hope you enjoyed looking.  Question?  I left the wet towel in for entire 30 minutes.  Can you over-steam bread?  I know from many of the books about baking bread, it states to steam first 15 minutes.  I didn't want to open oven again, so I left inside.  Thanks for viewing.
Scot