February 7, 2011 - 10:35pm
from my sourdough starter problems, I switched to commercial yeast breads for the weekend.  I've had "Crust and Crumb" out from the bookmobile for a while now, and thought these Peppery Polenta Crackerbread sounded good.  Turns out they are quite good!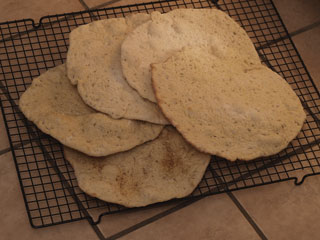 I baked them whole rather than cut up into individual crackers, thinking we might use them as wraps.  They are supposed to get tender and flexible if you mist them lightly and let them stand for 5 minutes.  We have not tried it yet, but they break up easily into cracker-sized bites for dips too.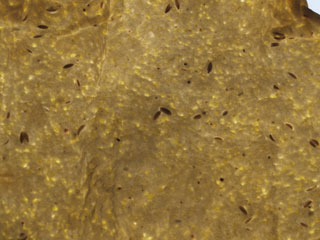 The secret to getting these to turn out as crackers is to roll them thin.  When you think you have them as thin as you can get them, let them rest, and then roll them thinner yet.  When you finally get down to where the whole fennel seeds must compress to go any thinner, give them one more pass, then bake them. 
Coarsely ground black pepper, uncooked polenta meal and whole fennel seeds give these crackers an interesting and complex flavor.  Garnishes of paprika, carroway seeds and sesame seeds, alone and in combinations, lend still more flavor variety.  The polenta gives them a nice crunchy bite to go along with the cracker crispness, and being rolled so thin you never get a whole mouthful of any one flavor.  They provide plenty of flavor though, even served with just plain cream cheese.  See Peter Reinhart's "Crust and Crumb" for the full recipe.
Also out on loan from the bookmobile, I have George Greenstein's "Secrets of a Jewish Baker", where I found a formula for Potato Bread.  I have always liked potato bread, and my wife prefers bread with "substance", so I baked the 3-loaf build of this formula on Sunday evening.  The book notes that potato bread dough is always "a little sticky".  I only quibble with the "a little" portion of that statmement.  The dough was quite sticky, and took generous dustings of flour on the board to get it into shape.  I should have added a tiny bit more flour as the dough was very loose in addition to the sticking, even after fermentation.  I also adjusted from the active dry yeast in the formula to instant yeast, and then went still shorter yet since my instant yeast breads seem to explode on me. It must be my water or something because I need to reduce the yeast even more next time.  This dough was a rocket-riser, and was ready quite early.  The results, however, are quit acceptable, in both flavor and appearance.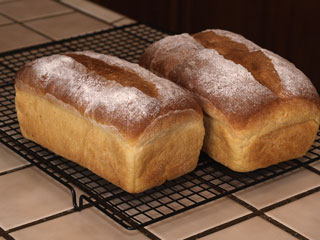 I baked three loaves, but one was already cut when the pictures were taken.  I used two 8" x 4" pans and a 9" by 5" pan, all baked together on tiles on a low shelf.  It took the full 50 minutes prescribed to get them all done, with the larger pan needing a few extra minutes.  The third loaf provides the crumb shot.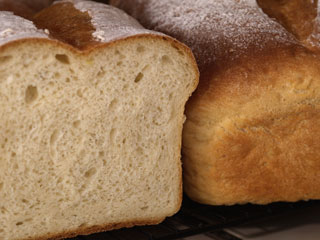 I think when I cut the yeast even further the crumb should close up a bit more and give me the solid and substantial texture I expect of potato bread. The crust of these loaves is pleasantly crispy and provides plenty of structure to support the moist and tender crumb I got here though.  The crumb almost has to be tender thanks to enrichment with potato, butter and milk (powder).  It made tasty toast this morning with butter and jam, and wonderful grilled cheese sandwiches for dinner.
These bakes went pretty well, thankfully, and so went a long way toward calming my nerves, frayed by my sourdough starter woes.  Nothing like some success as a restorative.  It makes for good eating too!
Thanks for stopping by.
OldWoodenSpoon