February 5, 2011 - 10:38pm
This is a Whole Wheat Barley Bread I baked yesterday. The recipe was made to include my barley flour.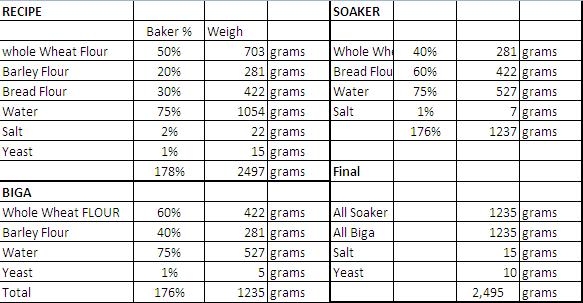 Procedure:
Day 1:
Mix the Soaker contents in a Bowl until you form a ball. Put the dough in a an oiled container and leave at room temp. for 24 hours.
Mix the Biga contents in a Bowl until you form a ball. Put the dough in a a large oiled container and into a fridge for 24 hours.
Day 2:
Take the BIGA out to warm 2 hours prior to final mixing. Chop the Biga and Soaker into pieces and combine them. Distribute salt and yeast on top, and start mixing, resting 5 minutes after every knead. The Dough is wet, so you'll have to knead with wet hands. Form a Tight ball, and put the dough in a large bowl for 45 minutes fermentation.
Scrape the dough out, and divide it into two, three or four pieces. Preshape, rest for 5 minutes and then shape. Lay loaves in a floured basket for 45 minutes. Preheat Oven with two racks, and a steaming device to 470 F.
Cover the Oven glass, Load the doughs into the oven, and pour a cup of boiling water into a steaming device. seal the vent. 15 minutes later, remove the steaming devise and unseal the vent, and bake for 20 more minutes at 390F.
Cool on Rack for 2 hours befor slicing.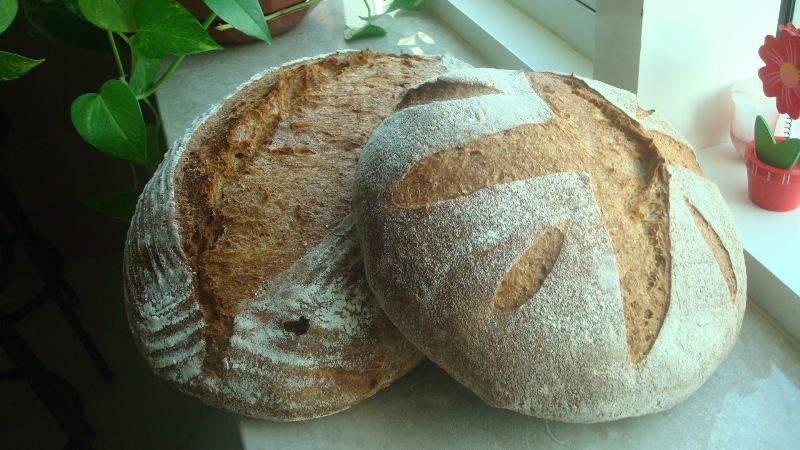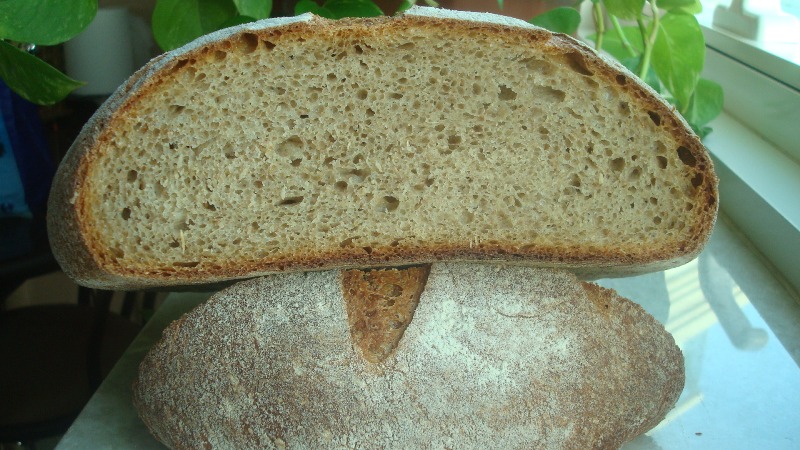 The flavor of this Bread is Nutty Wholesome, with a hint of barly sweetness in it. I think some honey would have enhanced the flavor more. i'll tweak this recipe in the future, God willing.