January 10, 2011 - 1:33pm
First sourdough loaf, a la Tartine
After tending to my new starter for two weeks, I finally got the courage to make some bread with it. I used the Tartine basic country loaf formula, which yielded two decently sized loaves. The leaven was made at around 10 PM the night before, the dough mixed at 11 AM the following morning, and the first loaf baked at around 7 PM. To my dismay, it came out like a dense, insipid sponge with a huge cavern in the middle. My boyfriend said "don't take this the wrong way, but it kind of tastes like my mom's bread machine boxed sourdough." Just to give a little background, he routinely insults his mother's cooking, so that didn't bolster my confidence much.
The book says that bulk fermentation should take between 3-4 hours at 78-82 degrees, and my kitchen wasn't nearly that warm.  I wasn't sure whether it was severely underproofed, or whether my starter wasn't up to snuff, so just for kicks, I left the second batch of dough out overnight at around 60 degrees Fahrenheit.
In the morning, the dough had expanded in volume noticeably and felt pretty well aerated. I shaped it, proofed it for around 3 and a half hours, and baked it at 475 underneath a large preheated stainless steel bowl for 20 minutes, followed by 30 minutes uncovered. Here are the results: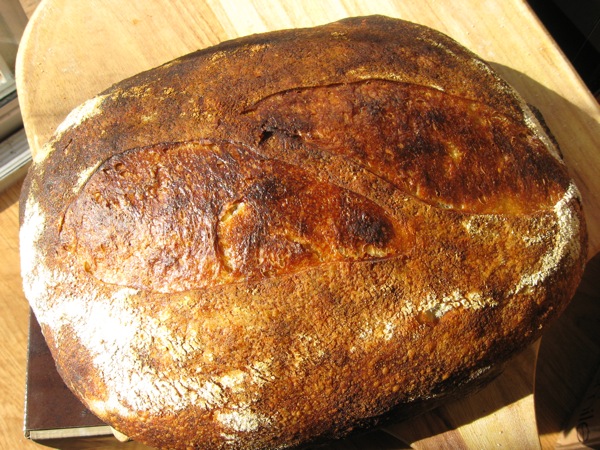 The crust got a little burnt on one side due to uneven oven heat, and I didn't quite get the kind of spring I wanted - the profile was a bit flat. However, I'm pretty happy with the crumb: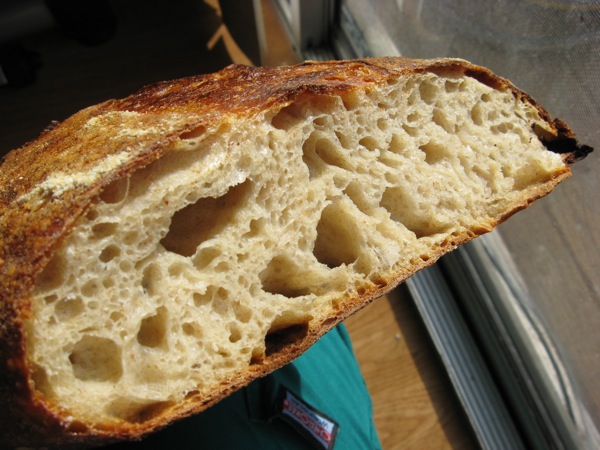 I think I would prefer to make it a little more sour next time, perhaps by increasing the proportion of starter in the leaven?  Maybe the flavor will come naturally as my starter matures over time. Overall, this bake was a good lesson in adapting to variable temperature conditions, and "listening" to the dough rather than the watching the clock. Around 15 hours passed between the failed loaf and the decent loaf.