December 19, 2010 - 12:10am
Hi all,
It's been a while since my last blog post, but that doesn't mean I haven't been baking. It's mostly been variations on my favourite recipes, however, so I have not bothered blogging about them. Over the weeks, I've baked my favourite pain au levain at different hydrations and with different flour combinations. I've found that I prefer a 80% bread flour: 12.5% whole rye flour: 7.5% whole-wheat flour combination (similar to my original formulation, from way back), mixed to a hydration of approx. 76%. I've previously used 70% as base hydration, but noticed over the time that the dough could use more water. At 76%, the dough is wetter and slacker, but still not very difficult to work. Below are two snaps of the a loaf that I baked yesterday: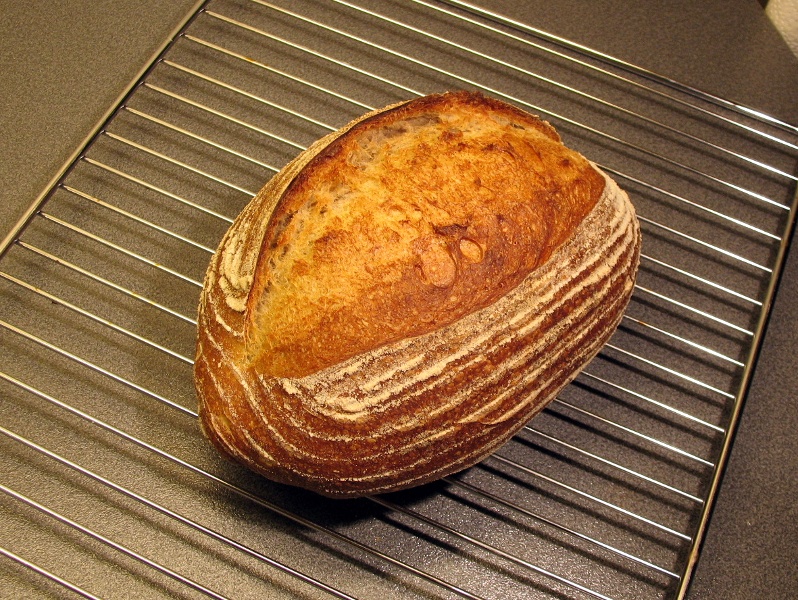 ... and crumb: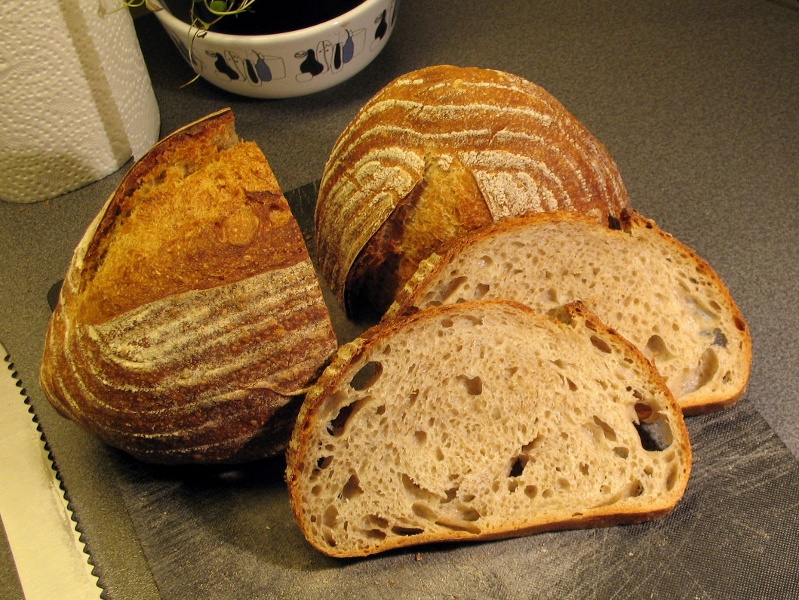 There are few things I enjoy more than working in the kitchen. Each December, I reserve time during weekends for some traditional Norwegian Christmas cooking. One such meal, is the (in)famous lutefisk, a dish based around stockfish. The stockfish is first soaked in cold water for five days. Afterwards, it's soaked in a solution of water and lye for a day or two. This soaking gives the fish a squishy, jelly-like mouthfeel. After the lye treatment, the fish is soaked in water another five days before it's turned into a real meal. Often served with potatoes, various pea stews, mustard, bacon, flatbreads and liberal servings of Aquavit, a strong liquor flavoured with herbs and spices. The homecook usually buys lutefisk that's already gone through the various soaking stages. I've not come around to making a lutefisk meal so far this year, but there's still time left.
This weekend I prepared another traditional Norwegian Christmas dinner, the also (in)famous smalahove. This is a dish made from salted, smoked and dried sheep's head, and hails originally from the area around Voss, in western Norway. It was originally something poor peasants ate, and has for a long time been something reserved for die-hard enthusiasts. The dish has gone through something of a reneissance/revival over the last couple of years, and is now quickly becoming a trendy thing to eat before Christmas eve. In the western Norwegian dialect, "Smalahove" is the word for "sheep's head". It's not something you can easily find most parts of the year, but the heads usually turn up in well-stocked grocery stores sometime in late November. The heads are usually split in half and sold vacuum-packed.
Preparation of smalahove is very simple: Place your sheep heads in a large pot, cover with water and boil for a few minutes. This step removes some of the intense salty, smoked flavour. (Alternatively you can soak heads in water overnight instead, but that can quickly draw too much salt out of the heads.) Pour out the water, refill the pot with new water, and put some vegetables and herbs in with the sheep heads. I used a leek, some carrots, shallots, garlic cloves and thyme (the garlic and thyme are decidedly un-traditional, but I have some Francophile tendencies...):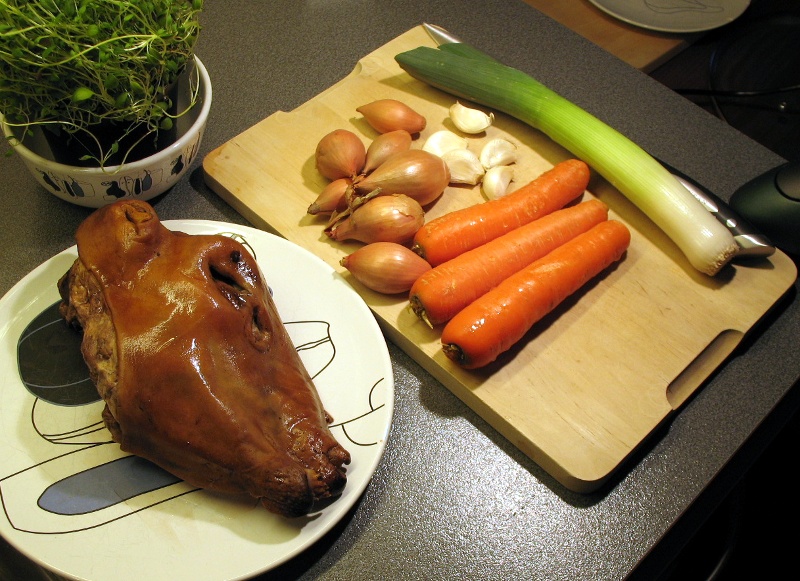 Bring the water to a boil, and let simmer between 2 and 3 hours, until the meat on the heads are tender and comes off easily. Serve with freshly boiled potatoes and rutabaga stew. The traditional Aquavit drink is required to enjoy smalahove: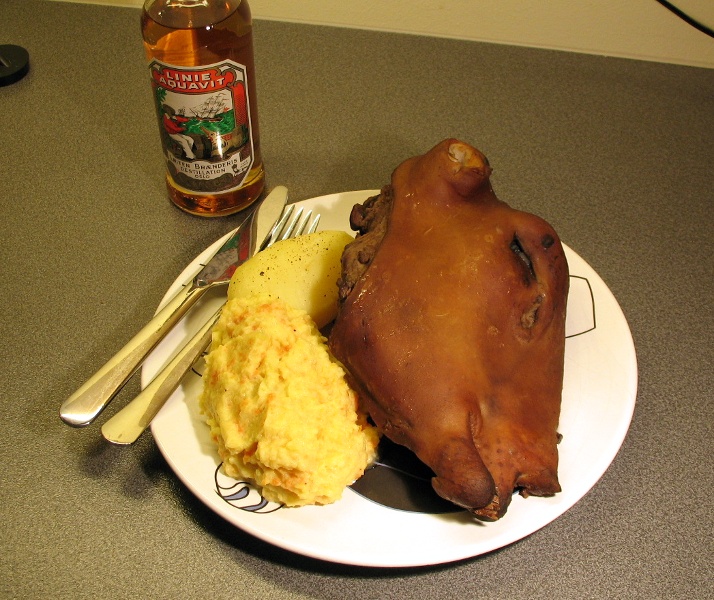 The dish is really delicious and quite unlike any other parts of the sheep that I've tasted. One usually starts eating near the ear-region of the head, where there is most fat. You want to eat this part while it's still smoking hot. Then gradually work your way down the jaw bone. Some 45 minutes later: