December 14, 2010 - 6:15pm
Mini Gingerbread Cheesecakes
Hello, I make these just about every year for holiday parties. Everyone loves them; I thought I would share the recipe below!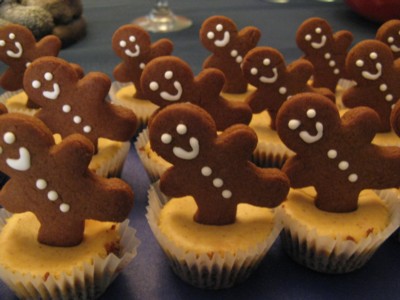 This recipe is my hybrid of Martha Stewart's Gingerbread Cheesecake featured in the Dec 2007 magazine and Rose Levy Beranbaum's Mini-Cheesecakes from her book Rose's Christmas Cookies.  

Mini Gingerbread Cheesecakes (makes 24)  
Garnish:   24 decorated mini gingerbread men   (I previously posted a Gingerbread cookie recipe here) 
Equipment:   2 Baker's Secret 12-hole mini-muffin pans, Mini muffin pan paper liners, 13x18 baking sheet, small 1.25 inch ice cream scoop or a reclosable quart size freezer bag

Place the muffin pans on a baking sheet (13x18). Line the muffin pans with the paper liners. Place oven rack in the middle of the oven. Preheat oven to 375.    

For the crumb crust:   1 cup crushed gingersnap crumbs, 3 Tablespoons unsalted butter, melted, some sugar if you like, say 1 Tablespoon (can be omitted)  (After cutting out the gingerbread man cookies, I save the scraps and bake them, then whirl them around in the food processor to make crumbs) 
In a medium bowl, stir together the gingersnap crumbs (and sugar if using) with the melted butter until evenly mixed.   Spoon two rounded teaspoons of the crumb mixture into each depression of the prepared pans and press into the bottoms and up the sides.    

For the cheescake batter:  
1 (8 ounce) package Philadephia cream cheese, softened at room temperature
3/8 cup sugar
1/4 teaspoon pure vanilla extract
1 large egg
1 Tablespoon molasses
a pinch of salt
1/4 teaspoon + 1/8 teaspoon ground ginger
1/4 teaspoon ground cinnamon
1/4 teaspoon freshly grated nutmeg
a pinch of ground cloves
2 teaspoons freshly squeezed lemon juice
In a mixing bowl, beat the softened cream cheese on medium speed until smooth and fluffy, about 3 minutes. Beat in the sugar and vanilla, scraping down the sides of the bowl as needed. Reduce speed to low. Beat in the egg, mix well to incorporate the egg, and scrape the sides of the bowl as needed. Beat in molasses, salt, spices and lemon juice.    Fill each crumb-lined depression almost to the top with the batter, using a spoon or a small 1.25 inch ice cream scoop or a reclosable quart size freezer bag with a piece cut off one of the corners of the bag.   Place the baking sheet on a rack in middle of the oven. Bake for 10 minutes.  For even baking, rotate the pans from left to right and front to back halfway through baking.   The cakes will puff up a bit on baking and deflate a bit on cooling.   Cool completely in the pans on wire racks. Refrigerate for at least three hours. These taste better if made the day before. When ready to serve, garnish by sticking mini gingerbread men (standing them up) into the tops of the cheesecakes.
Happy holiday baking everyone! from breadsong