November 28, 2010 - 3:36pm
Dough for 30 Pizza's - It's a Bday Party!
My grandson's 17th Birthday Party was Saturday.  After returning from a fun afternoon of Paintball sportpark a pizza party was planned.  I made the pizza dough and sauce, my daughter and another mom took care of the rest.  It has been a busy fun week of family and friends.  I assembled the pizza's along with lot's of volunteer's...who needed no instructions :)  My daughter tended to the oven baking of the pizza's.  They couldn't come out of the oven fast enough and requests for toppings were coming in fast!  What a production we had going!  I would like to share some of the day and my family with you, along with how I managed to make enough dough and sauce for 30 pizza's, last I counted. 
I starter Friday night armed with my little kitchenaid artisan mixer.  Not being able to hand mix this amount of dough and not wanting to be at it for long, this is what I did and the dough turned out perfect and the tomato sauce.  The pesto, chanterelles, shrimp, sausage, pepperoni, assorment of different cheeses where also some other toppings used.  Back to the dough mixing...I made one batch, yes one batch at a time.  I made 6 batches of the basic good old stand-by, Neo Neapolitan Pizza Dough from Peter Reinhart's 'American Pie'. 
My version used: To mixer bowl added in this order:
1 3/4 cups room temperature water
2 Tablespoons of EVOO and using the same Tablespoon I added 1 Tablespoon clover honey...sides off real easy from the previous oiled measuring spoon.
23 oz. King Arthur All Purpose flour
1 teaspoon instand yeast
3 1/4 teaspoons sea salt - a little less salty
Using the paddle, turned on mixer until dough was mixed and formed a rough ball.
Rested 10 minutes - Attached the dough blade, continued mixing until light gluten began to form and the dough was sticking slightly to the bottom of the bowl and starting to slap the sides.   Removed the dough, shaped into a nice smooth ball and placed into a oiled bowl.
Started the next batch, using the same method.  During the mixing and resting of each batch, I would give the previous dough in the oiled bowl a stretch and fold testing for good a window pane...when that was reached, I placed the dough-all into a very large plastic tub.  It was actually a large plastic cake cover turned upside down...perfect and used the bottom for the lid.  All the dough balls were placed into the large oiled tub.
When 6 batches were completed and placed into the large oiled inverted cake cover.  I placed it into the refrigerator for an overnight bulk ferment.
While making the dough, I also assembled my sauce...easiest part making the sauce! 
Sauce:  My version of PR Crushed Tomato Sauce Recipe in 'American Pie'
4 28oz. cans San Marzano Crushed tomatoes
1 28 oz. can SM chunked tomatoes- drained
1 teaspoon fresh ground pepper
5 teaspoons dried basil
5 teaspoons Mediterranian Oregano
apx. 25 minced fresh garlic cloves
2 TBsp. red wine vinegar, 6 TBsp. fresh squeezed lemon juice
5 teaspoons sea salt to taste
Placed all into my 5 lb. plastic flour canister, just filled it..the ten pound would have been roomier, but did not fit into the frig..
The next morning: 
Floured 3 tin foil pans..one was very large and two smaller ones..the large pan was little crowded and next time :? would use 2 more smaller tin foil pans instead of the one large.
Dumped all the cold, doubled in bulk dough, onto my wooden dough board and cut, weighed and shaped individual 8 oz. dough balls.  Placed them into the well floured tin pans, keeping them floured inbetween, so they did not stick together as they final proofed...on the way to the party!
I cut and weighed and shaped 8oz. pizza dough balls..did a few 10 oz..but thought a little large, so changed to making all 8 oz. pizza balls.
I did a pretest single batch of this dough...to see how it would work bulk fermented and then divided cold the next morning, shaped into individual pizza balls, proofed for a couple of hours and then shaped and baked..it worked perfect.  The weather has been very cool and allowed the dough to proof nicely on the drive to my daughter's home and ready when we where to make the pizza's.
I don't have a lot of photo's..I was busy and didn't even get to bring out my camera..would have loved to catch some photos of my daughter making the pizza's in the hot oven...she did manage time to catch a few photos and e-mailed them to me this afternoon..
I only managed to get 2 of the dough and sauce finished...I was ready for some bed rest, doing Thanksgiving dinner the day before, dough and sauce Friday, party was Saturday.
                                        Enough dough for 30 pizza's ........... more than enough sauce...I forgot there were other sauces, so made to
                         much....won't go to waste with some mozzarella stuffed meatballs and pasta!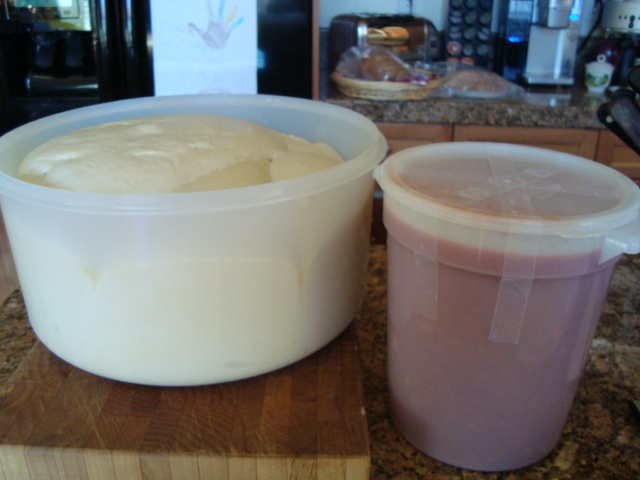 Grandson enjoying Red Velvet cupcake decorated like a paint-ball splatter.  Made by a mother of the other boy who was also celebrating his 16th Birthday!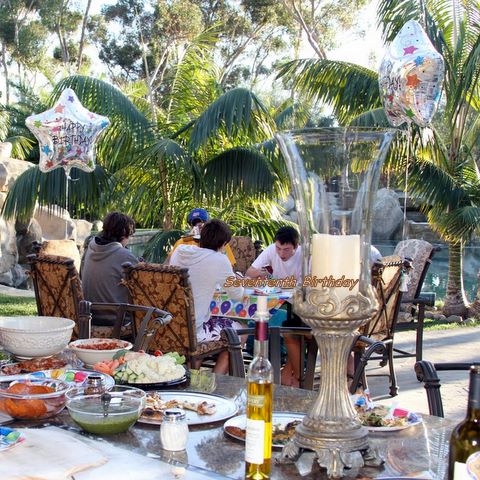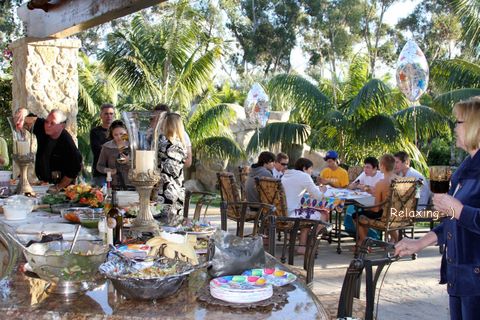 It is very cool and breezy outside.  I quess when your that young you don't feel it.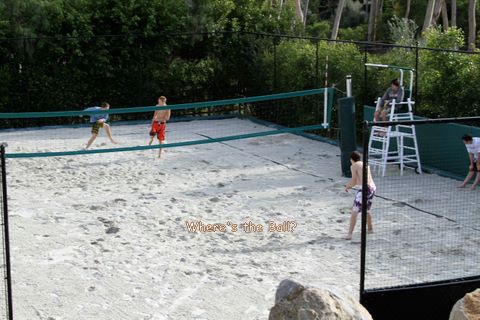 Mom on the left baked the
                                                         paintball splatter cupcakes and some serious pizza making in the lovely outdoor kitchen area
                                                         with the Wood Fired Oven.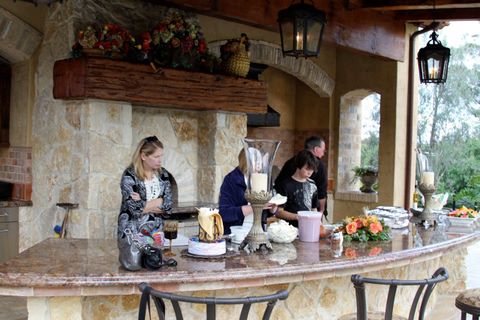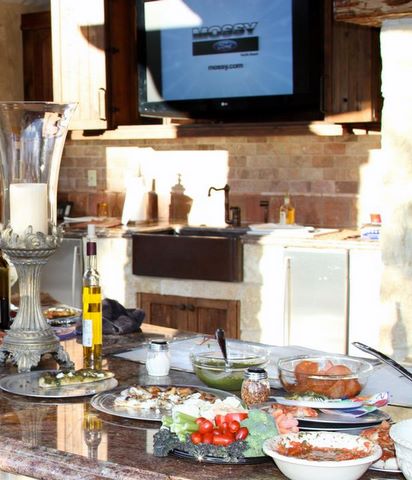 There's what's left of a couple of pizza's..we forgot to take photo's of the pizza's!