Chocolate Chocolate Chip Muffins
I was going to make the valentine's day pain rapide au chocolat tonight because my boy wanted me to buy him chocolate chocolate chip muffins at the grocery. Well, I just couldn't see myself making mashed potatoes just for that, so I went to google and dug up two C-C-C muffin recipes and between the three recipes I came up with this. And they're quite good, like the bread recipe, not too sweet, but in the middle they have some melty chocolate chip goo that makes them just right.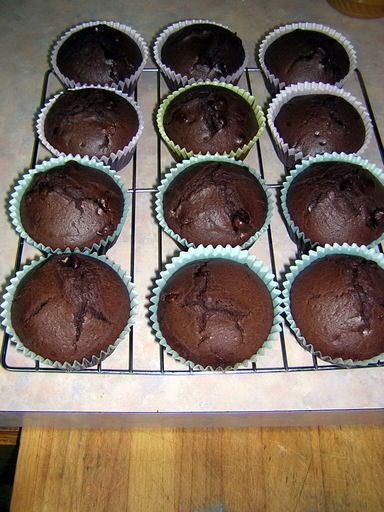 1/2 cup sugar
1-3/4 cups all purpose flour
2 Tbsp. powdered milk
6 Tbsp. unsweetened cocoa
2-1/2 tsp. baking powder
1/2 tsp. salt
1 cup semi-sweet chocolate chips
mix all the dry ingredients together, and if necessary, squish out any hard, rocky lumps in the baking powder.
in a smaller bowl or 2-cup measure, mix together:
3/4 cup water
2 eggs, lightly beaten
1/3 cup butter, melted
1 tsp. vanilla extract
I also splooshed in 2-3 Tbsp. Irish Cream, lacking rum or any other appropriate spirits
Make a well in the dry ingredients and pour in the liquids, mixing just until blended--as usual for muffins, leave it slightly lumpy.
Spoon into a 12-cup muffin tin, greased or lined with paper accordion cups. Bake at 400F about 18-20 minutes. A toothpick should come out clean unless you've struck a chocolate chip.
and of course, you can use 3/4 cup dairy milk in place of the water/powdered milk ingredients.