November 4, 2010 - 5:59pm
One of the breads I bake regularly for sale is the Swedish Limpa Rye from Peter Reinhart's "Whole Grain Breads". The word "Limpa" sounds intriguing - but it simply means "round" in Swedish - I asked my Finnish friend Melita. Therefore, of course, my Swedish rye breads are always round.
I made some changes to the original recipe, though. I use less water for the starter - I found 142 g water results in a really wet dough: 127 g is sufficient. I also cut back on the molasses, adding only 37 g. The recipe amount with 57 g is, like many of the WGB recipes, too sweet for my taste.
As with all my breads I bulk ferment the dough overnight in the fridge - I need only 4 g instant yeast (instead of 7 g) - and bake it the next morning.
SOAKER
142 g rye flour
85 g whole wheat flour
4 g salt
170 g water
 
STARTER
64 g whole wheat mother starter
191 g whole wheat flour
127 g water
 
FINAL DOUGH
all soaker and starter
57 g whole wheat flour
5 g salt
4 g instant yeast
37 g molasses
14 g canola oil
9 g anise, fennel, cardamom, cumin, (cumin less than others)
7 g orange zest ( 3/4 - 1 orange)

DAY 1

In the morning, prepare soaker and starter.

In the evening, prepare final dough, place in lightly oiled container, cover and refrigerate overnight.


DAY 2

Remove dough from refrigerator 2 hrs. before using.

Preheat oven to 425 F/220 C, including steam pan.

Shape boule and proof in floured banneton (seam side up) for 45 - 60 min., until it has grown 1 1/2 times its original size. Place on parchment lined baking sheet. Score (I like a windmill pattern).

Bake 20 min. at 350 F/175 C, steaming with 1 cup boiling water, rotate 180 degrees and continue baking for another 25 min. until bread is a rich reddish brown and sounds hollow when thumped on the bottom (internal temperature at least 200 F/93 C).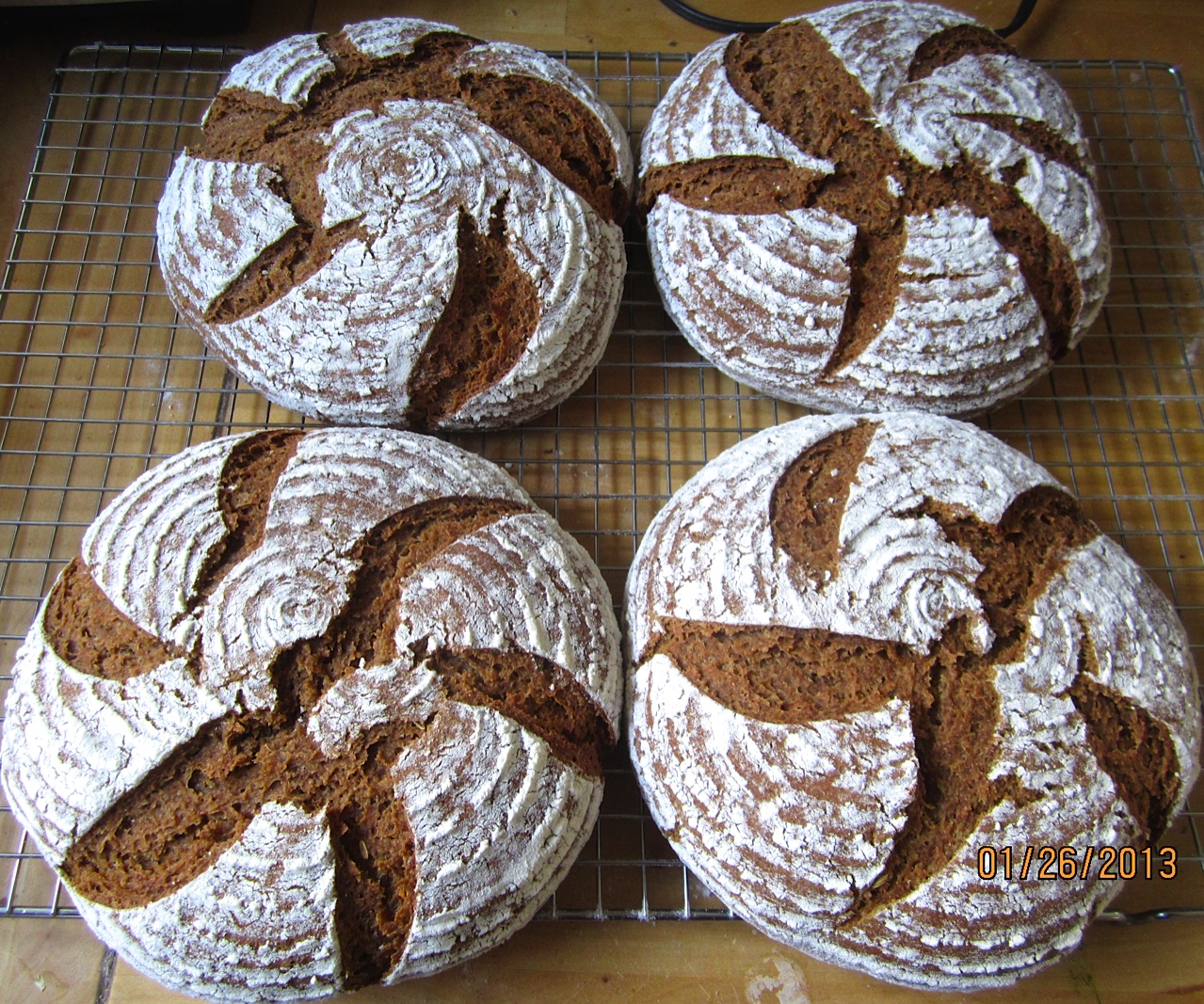 The breads I sell are a little smaller (80%), to fit into the oven - and to cost a little less!
Updated 11/4/14