October 29, 2010 - 3:20pm
Hello, I recently purchased the Tartine Bread book, by Chad Robertson, when I had an opportunity to visit the Bakery.
I was there for breakfast, so alas, did not get to taste Mr. Robertson's bread, but did get to enjoy a lovely croissant & have a good look at his book...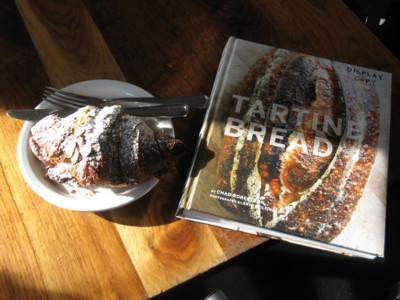 I really liked how Mr. Robertson described his journey as a baker and it's beautifully written and illustrated.
I especially liked what he said about fermentation...I had to have this book to add to my collection back home!

My dear father-in-law celebrates a milestone birthday this weekend, so I wanted to bake this special Country Bread for him.
I really tried to make sure I was fermenting the dough in the right temperature zone...ensuring a cool enough environment for the leaven and then a warm enough environment for bulk fermentation...requiring some woodstove management as I tried to control temperature in the house!
I retarded the loaves in the fridge for 7 hours before baking. I don't have the combo cooker that is recommended in the book so just baked my usual way.  The first loaf went in straight from the fridge, and I had an interesting blow out on the bottom of the loaf, that actually made the loaf sit up pretty for pictures! The second loaf proofed for about 45 minutes prior to baking, and I scored it differently, hoping that would help control how the loaf expanded.
I scored the tops with an "F" for Father-In-Law...the aroma of the baked loaves is heavenly...the loaves sang nicely and the crust crackled!
I don't have a crumb shot yet because the bread's for the 'big day' tomorrow...I hope father-in-law likes his bread!!!  
Regards, breadsong