I made another batch of bagels last night. My son dug the blueberry bagel we got from Safeway last week, so I decided to make a third of the batch with blueberries (bagel snobs: insert derisive comments here).
I thawed the blueberries and then tried mixing them in with the risen dough. Bad idea:
Yes, it does look like entrails. It really made quite a mess, with little strips of purple bagel dough refusing to stick together.
I was about to throw the whole thing into the trash, but I decided to try adding an extra 1/4 cup of flour, just to see if I could salvage it. Happily, it worked, and they baked up quite nicely: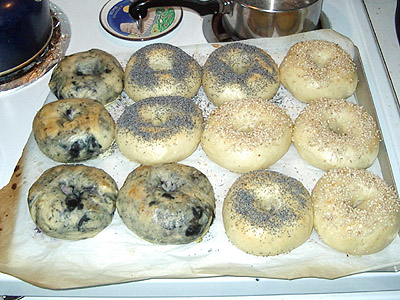 It just goes to show, when in doubt, improvise. Worse case, I would have had to throw away an extra 1/4 cup of flour. Big deal.