October 24, 2010 - 5:50pm
From brick to bread - my German Feinbrot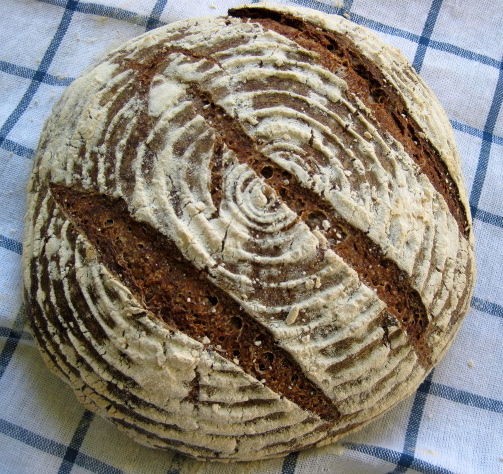 German Feinbrot
When I moved to Maine in 2001, to get even - with the guy who had sold me a houseful of furniture - but refused to give me a rebate - I knew I would be in big trouble. And I was right, after two days my stomach started complaining and my brain kept sending "gag" signals, when I walked the supermarket aisles and encountered nothing but row after row of "wonderbreads".
Poking so-called rye, multigrain, oat nut or wheat breads with my finger, I found no resistance. I could squeeze them through their plastic bags and they would  spring back to their original size when I let go. Even when toasted they retained their squishyness and would not tolerate butter or jam without getting soft and soggy. 
The only place that sold some good bread in Bangor was (and still is) the "Bagel Factory". This bakery cafe was my oasis in the desert, and still, whenever I go to Bangor I take a bag of poppyseed bagels home. But great as these bagels are, they are white, a bit sweet and soft, and not dark, tangy and crusty, like the everyday rye sourdoughs I craved.
Having two warm meals a day was another thing my stomach refused to adapt to. German families usually eat bread and cold cuts either for lunch or for dinner.  German schools don't offer lunch, and Mother cooks at home. As a working mom I used to see this daily cooking as chore and a bad idea - until my daughter went to Bangor High, and had to eat at the school cafeteria (this experience made her learn how to cook, and gave birth to a career as chef!).
Finally I couldn't take my stomach's growling anymore. I started seeing bread Fata Morganas by day, and dreamt of crusty loaves by night. So I went on the quest to make "Feinbrot". The first step was, of course, a recipe. That was already a big hurdle. Nobody in Germany bakes Feinbrot at home, you can buy several varieties in every bakery and supermarket. There was none in my baking books, and none in the internet, only specialty breads, but not the simple loaf I was looking for.
And then, how to make sourdough? I didn't have the slightest idea. At a gift shop in Bangor, I found the "French Farmhouse Cookbook" and there was a recipe for Pain au Levain, with soudough. Full of enthusiasm I started my first starter, and, also, as backup and comparison, I mixed a starter from a store bought package.
My first breads, two twin loaves from the different starters and the recipe from the book, resulted in two almost identical bricks. Saving always a cup of dough to use as starter for the next bread, I kept on baking, producing more bricks on the way - my husband suggested keeping a supply next to our bed in case of a home invasion - and experimented with different amounts of rye, bread flour, temperatures and baking times, using the original recipe only as initial guideline.
After several weeks - and bricks - my homemade starter was way ahead of the store bought mix, in flavor and activity. Slowly, in trial and error, I figured out what bread flour/rye ratio I liked best, and what temperature settings and baking times gave the best results. Finally my bread had the right taste and right crumb - but the crust was either thick and and hard, or thin but too soft. Nevertheless, that was all I thought I could do - and Richard, the best of husbands, ate it all!
An open house tour with my daughter at the New England Culinary Institute in Burlington, left me green with envy. Valerie was going to learn how to make baguettes - from a real French pastry chef! I went home, and, since I couldn't be one, at least I could buy one "Bread Bakers' Apprentice".
Reading the instructions I was struck by an epiphany! I had always (as stated in my recipes) just placed a cup with cold water together with the bread in the oven. And now I learned how to set up my oven for hearth baking - with stone and STEAM. Finally I was not only able to bake French bread, but my humble everyday Feinbrot was transformed, too!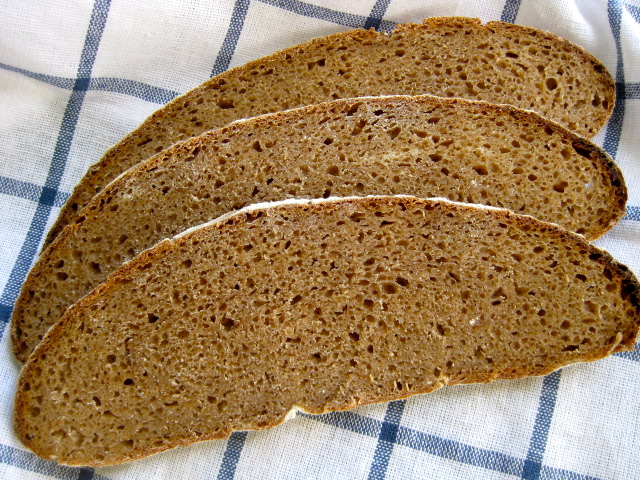 Feinbrot crumb
Recipe:    http://www.thefreshloaf.com/node/20242/karin039s-german-feinbrot