October 17, 2010 - 11:07pm
My favourite things (but no apple tart this time)
I recently dusted off my old John Coltrane records, and I've been listening to them pretty much non-stop this weekend. Coltrane's one of those artists that I listen to intensely for weeks on end, before I need to pause, put the records down, and breathe a sigh of relief. For me, the intensity of the music itself seems to induce this kind of listening. Even though I'm generally partial to the fire and cinder of his late Impulse! records, "Giant Steps" is probably the record that's closest to my heart. Not only was it the first Trane record I bought, but it also opened my eyes to so much timeless music. It was also the soundtrack to a great, great summer...
After a rough week, I decided to indulge in baking some of "my favourite things". The first was a pain au levain, a bread that I never tire of. It's also one of those formulas that easily fit into my weekday routine. Here's my formula.
I mixed the dough Friday afternoon, and pulled the baked bread from the oven Saturday morning: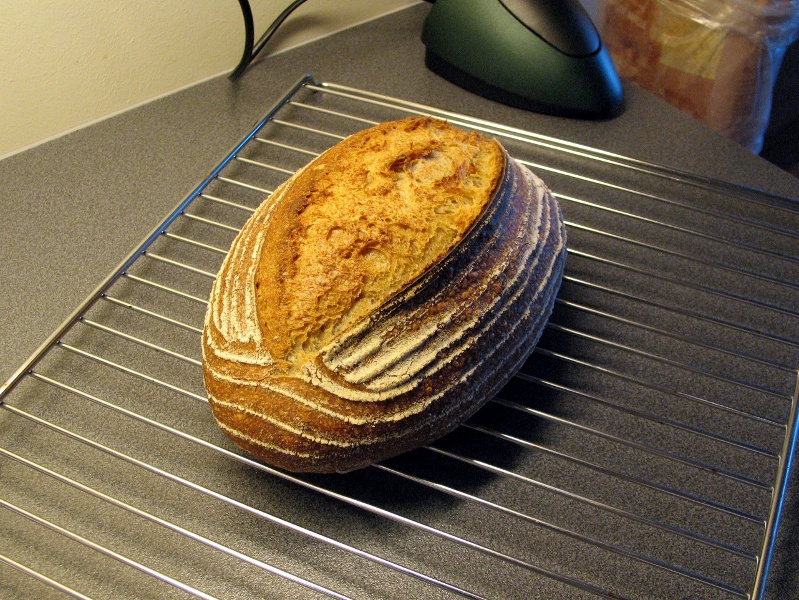 I really like the simplicity of the bread and formula. A crisp crust and a chewy crumb - it's a bread that's flavourful enough to be enjoyed on its own, with some butter, or a slice of Brie de Meaux.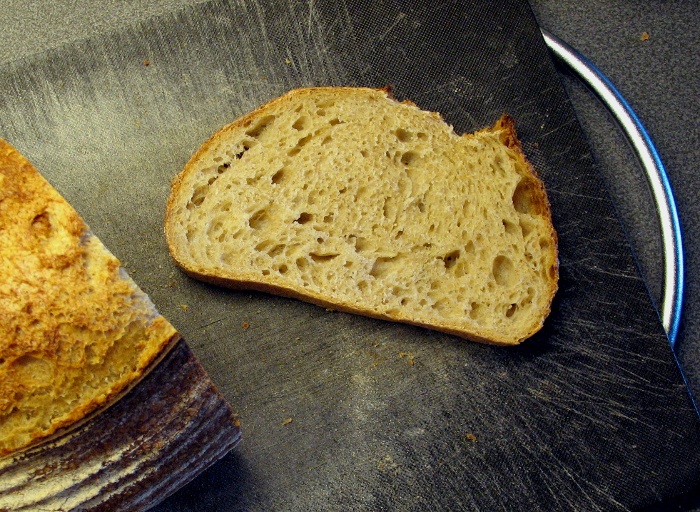 I've mentioned it before, and it's probably not something I'm the only one to think, but as the autumn and winter approach us, my preference swings towards wholesome breads. July's crusty baguette is replaced by a dense, filling rye come late October. Yesterday I baked a dense rye loaf based on Hamelman's "80% rye sourdough with rye flour soaker". I made some small changes to the formula, and you can find my adaption described here.
This is a dense, 80% whole rye bread, where a third of the flour comes from a ripe rye sourdough, and a fifth of the flour is scalded with boiling water. The scalding process increases water absorption, provides the bread with just a hint of sweetness, and lends the crumb a soft and moist mouthfeel. Here's the baked bread: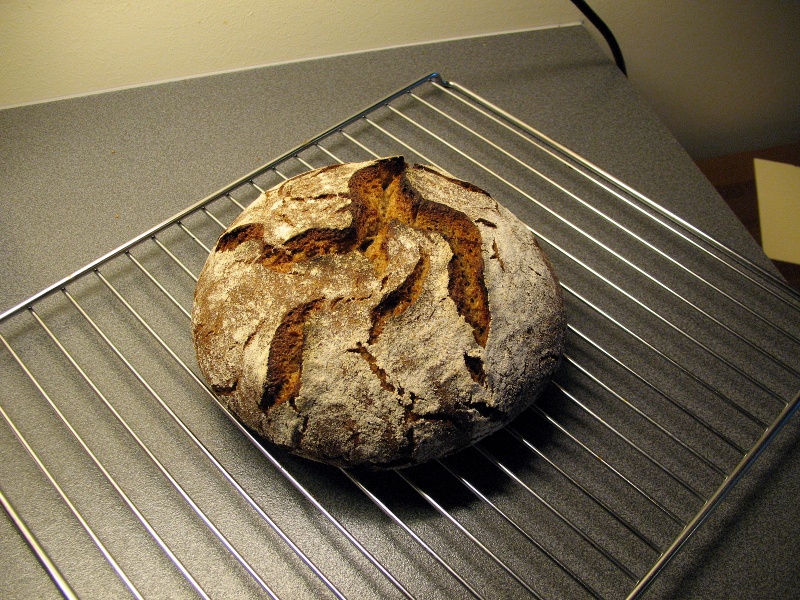 ... and a "24 hour later crumb shot":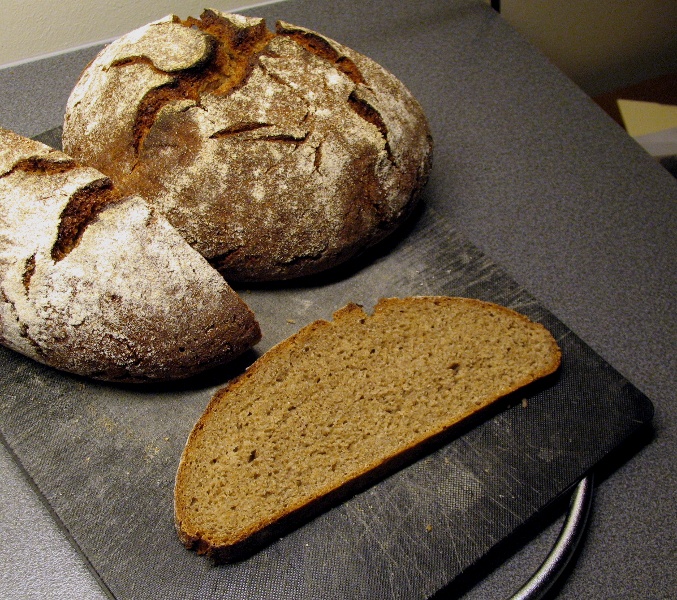 Just what I'm looking for this time of year.
As the title of the blog post warns: There are no apple tarts this week. I hope all's not lost, and that there's still room for Sunday dinner... Another favourite of mine is quiche. I'm not sure if what I made yesterday qualifies as a quiche - according to Robuchon, there's no onion nor grated Gruyère in a proper quiche lorraine. Adding grated Gruyère is supposedly something the posh Parisians did - and the onion? Well, if you put onion in there, it's an onion tart. It's a minefield, I know, so I'll call this my favourite Sunday bacon-and-onion tart. Below's the mise en place: Prebaked tart shell, a custard (in the white bowl, center-top), cooked onion and bacon, and Gruyère. I like a crisp tart crust, and due to the rather liquid filling, I try to give the tart shell a full 20 mins. prebake before filling it.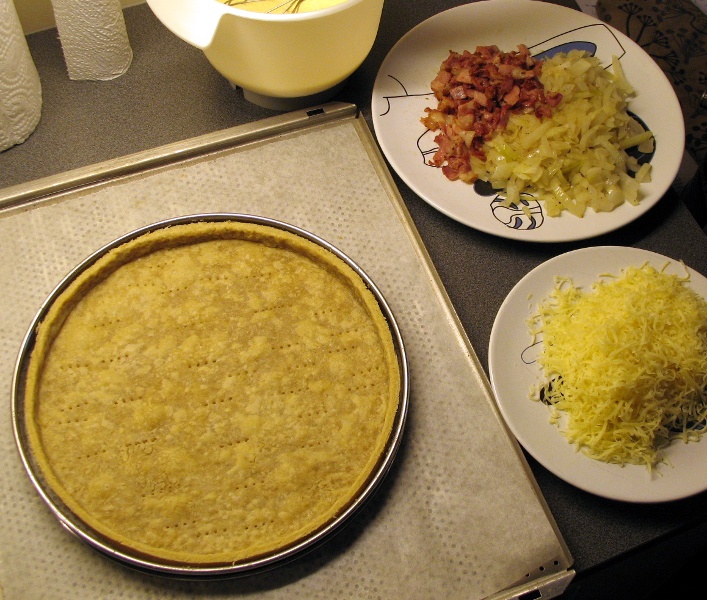 Voila! Here's the tart after 35 mins in the oven: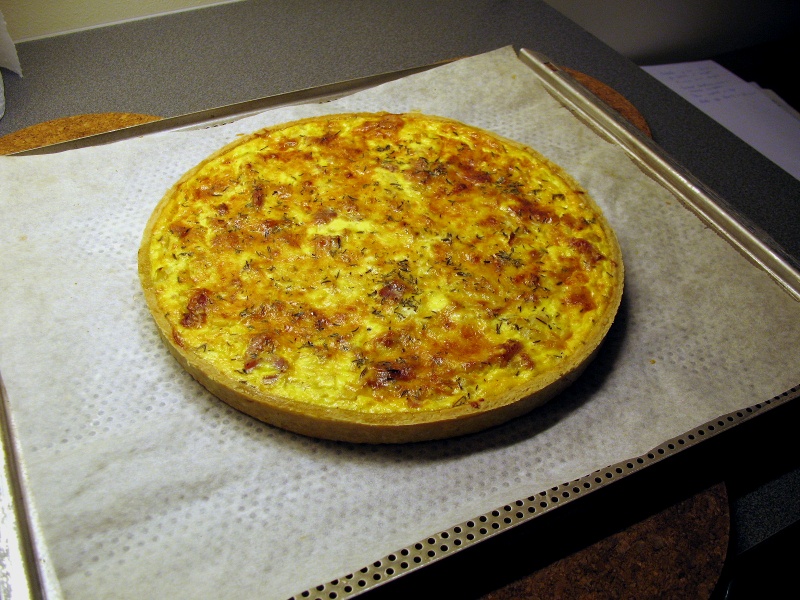 Bon appetit!