Pumpkin breads for Canadian Thanksgiving
Hello and Happy Thanksgiving to those celebrating this weekend!
I tried shaping breads as Pumpkins for the occasion.
I tried this recipe first:
http://www.wildyeastblog.com/2007/10/16/world-bread-food-day/
substituting 75% stone-ground whole wheat and 25% bread flour for the high extraction flour,
substituting canned pumpkin for the sweet potato,
substituting flax seed for pumpkin seed
When mixing I found it really hard to get the dough to develop & also didn't give it enough time to proof; there was very little oven spring.
I'm positive the wildyeastblog.com formula is wonderful given the lovely result pictured with the formula on the wildyeastblog site...I certainly didn't do this recipe justice.
My flour substitution might not have been ideal either, but welcome any thoughts anyone might have on this!

These little pumpkins are like bricks as a result of my efforts, so I stacked them like bricks for the photo!
Crust was tasty, crumb very moist, and a subtle pumpkin flavor.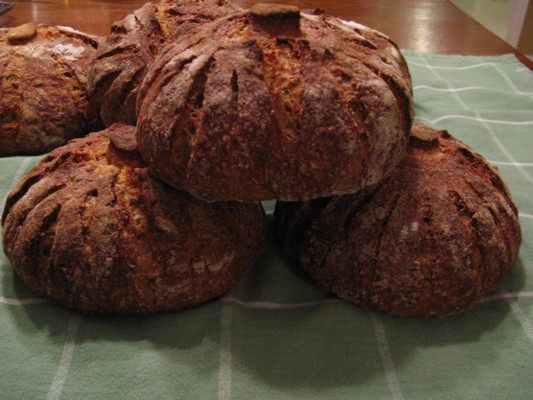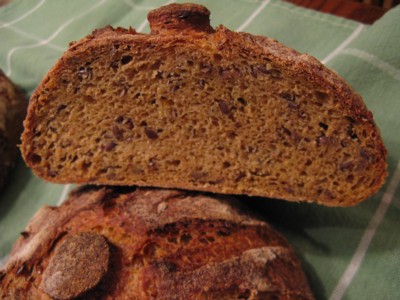 Not feeling good about the first dough was shaping up for me, I started a second...Rose Levy Beranbaum's French Country Sourdough, with pumpkin puree swapped in for some of the water in the recipe. In The Bread Bible, Rose writes canned pumpkin puree is 90% water; using this as a guide, I used 200g of pumpkin puree for a triple recipe of this bread and then topped off with some additional water. These came out lighter with more oven spring - and will be shared with family tomorrow!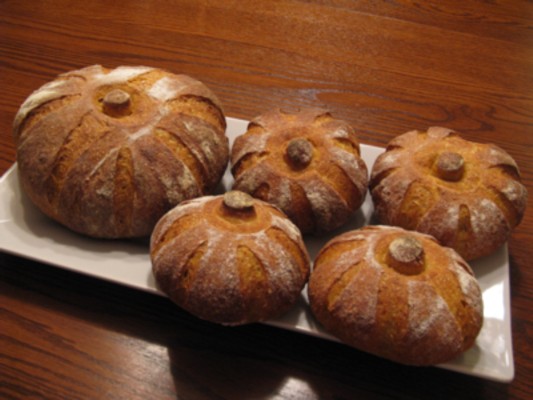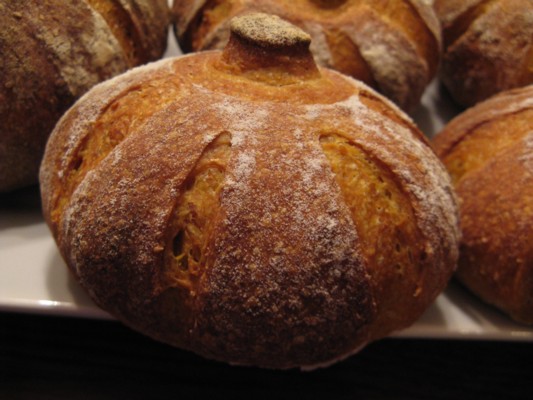 To shape these breads, I shaped boules and slashed starting at the bottom and up to the top, almost to center, trying to make "pumpkin lines". I took a small round cookie cutter, floured it, then twisted and gently pushed down, twisting back and forth, until I'd cleanly cut a "stem".
This idea I got from hanseata (Tyrolean Pumpkin Seed Mini Breads - thanks hanseata!)
Hope the second batch tastes OK tomorrow. Happy Thanksgiving from breadsong