September 28, 2010 - 11:20pm
Lessons learnt from 2nd attempt at croissant making.
 After the first failed attempt at croissant making, it caused me a long hesitation before attempting it second time around. It also made me thinking that croissant was probably just too hard to make and I should leave them to the professional. However, some recent TFL posts kind of encourage me into believing that I can also do it.
So, here goes my second attempt. 
My second attempt went reasonably okay. I applied what I learnt from my first attempt. The dough needs to be strong and extensible enough to withstand the rolling, folding and stretching during the lamination process. I learned this first hand as  I didn't work my dough enough first time and it got torn and butter was leaking out. It was a disaster and totally put me off making it for a long while.
So, with my strong dough, my laminating process went smoothly, had no problem. The croissants were shaped nicely and I thought .... Umm, this wasn't so hard after all and I might be up to something nice:-)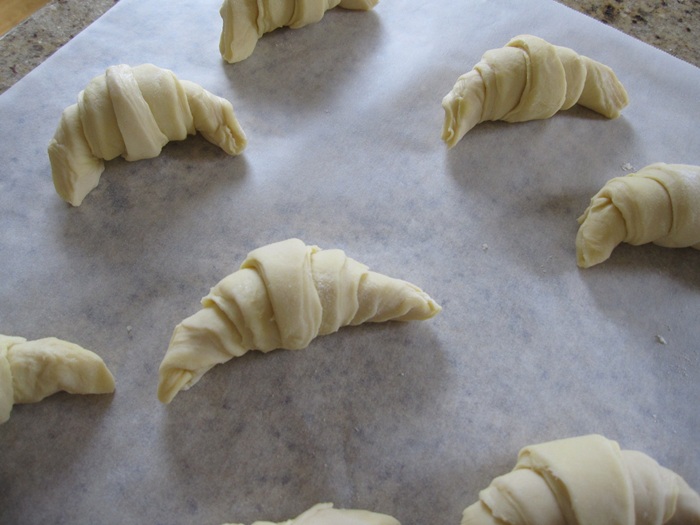 Then, here comes the proofing process. I forgot and probably having a blonde moment, that croissant is a buttered-dough. It can't be proofed in the same environment as bread is. I proofed my croissant on a tray and I place the tray in the off-oven. I also put a bowl of hot water underneath the proofing tray. As, you might have guessed it. The butter melted and here comes the minor disaster!!!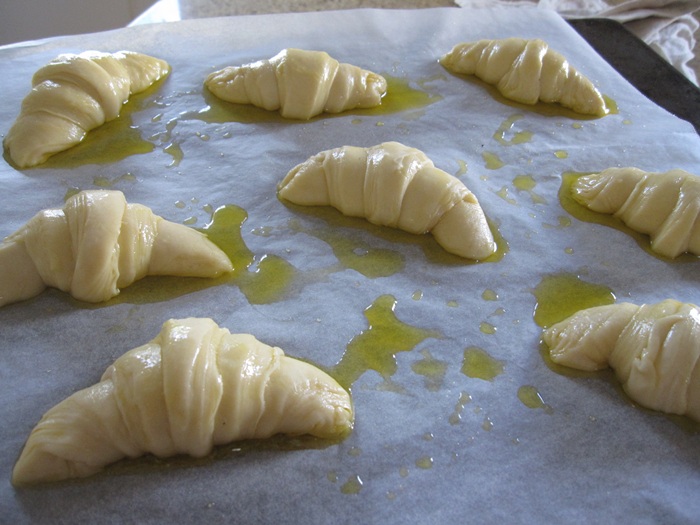 I continued with my bake anyway. The croissants turned out all right. They're not perfect but they tasted okay.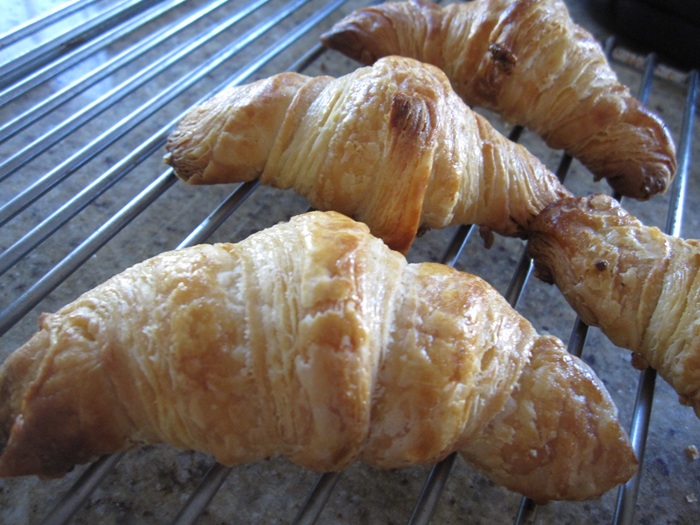 Something I learnt from this bake and/or something I'd like to try for my next bake....
Never proof the dough at warm and humid temperature as the recipe suggested.
Will only proof the croissant at room temperature
Will try baking croissants at higher temperature. I baked them at 170c (convection) this time but I will try baking them at 200c (convection) next time. Baking at 170c didn't give me the brownish tone and crisps that I would like.
Also, some by-products from the croissant dough, pain-au-raisins, or snails as Aussie calls it.....