September 28, 2010 - 11:38am
September Birthday Plum Cake
There's no doubt about it - Pflaumenkuchen (German Plum Cake) is my birthday cake. In the beginning of September the first prune plums show up on the market just in time for my birthday.

My birthday party was always arranged by my grandmother, my Omi, who invested all her love and imagination in coming up with games and other entertainment for me and my friends. She definitely was my role model on how to make a child's birthday party a huge success!

"Hide-and-Seek" (in the dark), "Choose-the-Right-Candy" ( with nail biting suspense) , "Say-Whom-You-Love" (good for many giggles) and "Unwrap-the-Chocolate" (with hat and mittens, fork and knife!) were some of the games that raised excitement and noise levels to heights that called for quiet intervals of soap bubble blowing, or story telling, to calm down all the boisterous little guests.

Of course my grandmother also baked my birthday cake, a large sheet brimming full of prune plums resting on a bed of sweet yeast dough, generously sprinkled with almonds and cinnamon sugar. I loved that cake, and could eat a lot of it (though not quite as much as on those memorable occasions when my cousin Thomas and I would compete at wolfing down Omi's famous yeast dumplings!).

Nowadays, if I don't have to entertain a horde of hungry cake monsters, I bake a smaller plum cake version, either with a short or a streusel crust, in a springform pan. They taste as good as the large yeasted cake - especially with Gifford's award winning vanilla ice cream...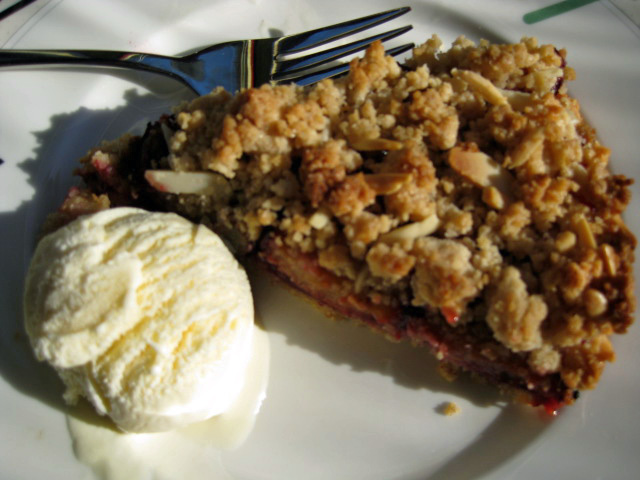 There are hundreds of German plum cake recipes, this cake here is easy to make and tastes best slightly warm, with vanilla ice cream.
You'll find the recipe here: http://hanseata.blogspot.com/2010/09/german-plum-cake-pflaumenkuchen.html