September 20, 2010 - 6:49pm
9/19/10 - The "Perfect" Crumb...
Hey All,
I had a friend Russ in town from LA that I haven't seen since his wedding about 5 years ago...  He finally made it out to NYC, 13 years after we had first met in college...  Funny thing is that last Christmas, I send a loaf of bread to another friend Greg in LA that we both know.  Greg was raving about it to Russ and his wife...  Anyway, many months pass, Russ finally makes it out to NYC, and his wife jokingly asks him to bug me for some bread...  Of course as an obsessive baker, I don't turn down many opportunities to bake for my friends...  I have been baking Poilane style pain au levains for the past fiew weeks trying different things with levain, flour combinations, hydrations...  I've been playing around with 68% hydrations levels which was inspired by Dominique Saibron of Le Boulanger de Monge: http://www.leboulangerdemonge.com/
He says on his website that they use 68 parts of water: http://www.leboulangerdemonge.com/du-moulin-au-four/la-composition-du-pain.html
So here's recipe and process:
Ingredients:
1576g Total flour (5% Rye/10% WW/ 85% AP)
1072g Water
38g Kosher Salt
316g Liquid Levain (100% hydration fed night before and refrigerated.  I keep mine an ever changing mix of rye, ww, AP)
3000g Approx total dough yield
Method To Madness:
9/18/10
4:45pm - Place all ingredients in large mixing bowl in the following order: water, levain, flour, salt.  Mix with large rubber spatula until a shaggy dough is formed.  Mix with wet hands to ensure all lumps and dry bits are gone.  Place bowl in large plastic bag and let rest.
5:00pm - Rest
5:30pm - Turn dough, divide into 2 equal pieces (1500g), transfer to lightly oiled plastic tubs, cover, let rest.
5:45pm - Turn dough, cover let rest.
8:30pm - Turn dough.
10:00pm - Turn dough.
9/19/10
12:40am - Shape into boule, place in well floured linen lined banneton, flour top of dough, place kitchen towel over each banneton, place bannetons into large plastic bag, proof for approx 4+ hours.  (Be sure to flour the bannetons very well as this is a very long proof with a wet-ish dough.  I had to be very careful when turning the boules out as they did stick a little and I had to be very patient for the dough to unstick itself and drop...)
5:00am - Place 2 baking stones on 2 levels along with steam pan with lava rocks.  Place a few cups of water in steam pan.  Preheat oven to 500F with convection.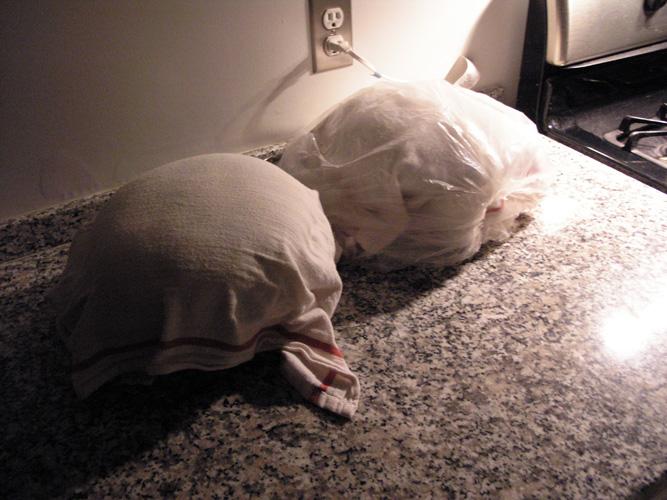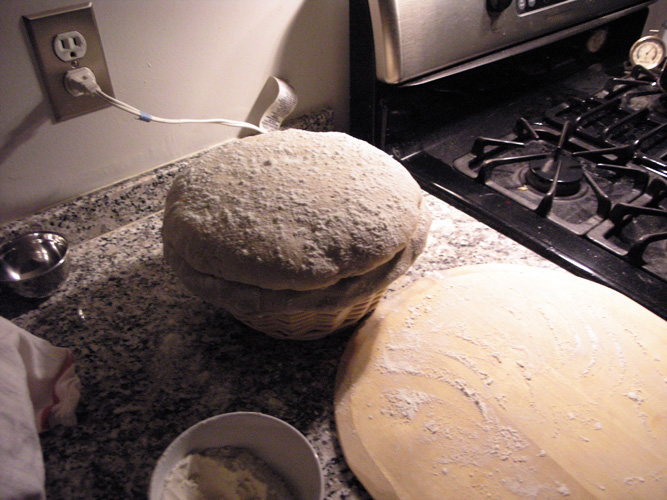 6:10am - Turn off convection.  Turn boules out onto well floured peel, slash as desired, place in oven directly on stone.  When last loaf is in, place 1 1/2 cups water in steam pan, close oven door.  Turn oven down to 450F, bake for 30 minutes.  After 30 minutes, remove steam pan, rotate loaves between stones, turn oven down to 425F, bake for another 30 minutes.  After 30 minutes are done, turn off oven and leave loaves in for another 10 minutes...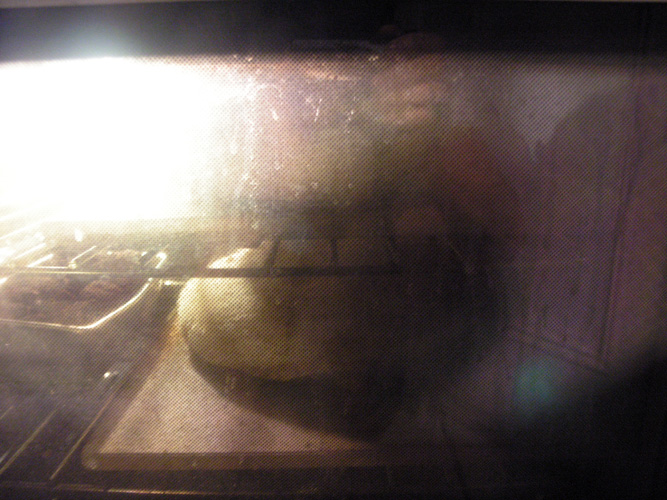 7:10am - Take loaves out of oven, check internal temp and weight.  Should be around 210F and 15-20% lighter than the prebaked weight.  Cool completely before cutting and eating...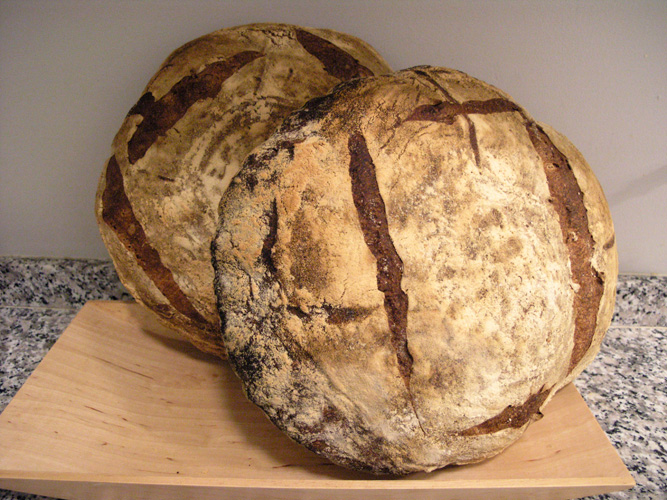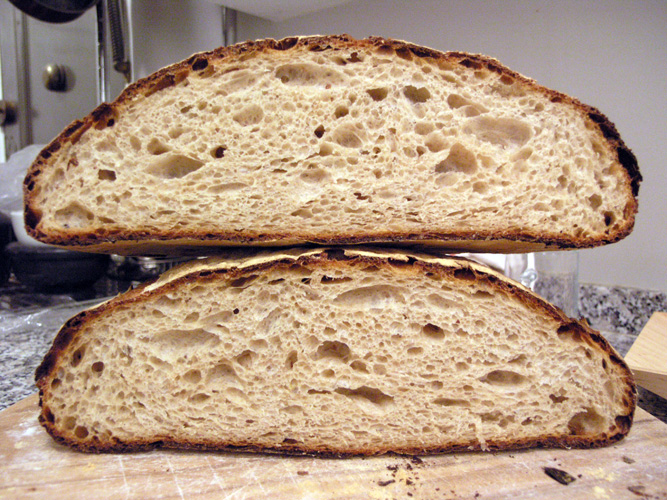 These are by far the most open crumb that I have ever achieved using levain only...  I have no complaints here other than I should have used more levain to speed up the dough...  This was about 14 hours from start to finish...
Enjoy!
Tim