8/20/10 - Brioche Attempt (Done)
Hi All,
Just wanted to share with you my attempt.  It is loosely based on foolishpoolish's Brioche au Levain: http://www.thefreshloaf.com/node/7433/brioche-au-levain-recipe and the Brioche With Liquid Levain recipe on page 204 of Daniel T. Dimuzio's book: Bread Baking: an Artisan's Perspective.  I am doing this completely by hand...
Ingredients:
Liquid Levain:
100g AP (King Arthur)
100g Water
50g Sourdough Starter (100% hydration)
250g Total
Final Dough:
650g AP (King Arthur)
280g Whole Milk (scalded and cooled)
225g Unsalted Butter (2 sticks @ room temp)
112g Eggs (2 XL)
75g Caster Sugar (extra fine)
18g Kosher Salt
1.4g Instant Yeast (1/2 tsp SAF Gold)
250g Liquid Levain
1609.4g Total Dough Yield
Method (at least what I did)
Day 1 (8/20/10)
2:35pm - Mix liquid levain, cover let rest for 3-4 hours.  Scald milk and let cool.
6:00pm - Measure out all ingredients.
6:15pm - In a large 15L stainless steel mixing bowl, add the milk, eggs, about 1/3 of the caster sugar, all of the liquid levain, salt and yeast.  Mix well with a wire wisk until well combined.  Next, wisk in about 1/3 of the flour, mix until smooth.  Then, add the remaining flour, mix with a spatula until combined well, cover and autolyse for 25-30 minute covered.
6:40pm - Knead in remaning sugar by hand.  Sprinkle sugar lightly around the dough and onto the sides of the bowl, and knead dough by picking it up slapping and folding it to either the side or bottom of bowl using 1 (right) hand (left hand holds and rotates the mixing bowl).  Continue kneading and adding sugar until all sugar is used and dough begins to develop strength and stop shredding.  About 10 minutes.
6:50pm - Cut butter into small chunks and begin kneading butter into the dough.  Reserve the butter wrapper for greasing the plastic container for rising.  Method for kneading butter: smear 1 chunk of butter along the sides of the bowl, then slap and fold the dough on the sides of the bowl using 1 (right) hand (left hand holds and rotates the mixing bowl).  This will take about 40 minutes and your arm/hand will get tired.
7:25pm - Transfer dough to buttered plastic tub, cover and let rise for about 1 hour on counter.  Turn dough 3 times at 15 minute intervals.
8:30pm - Turn dough and transfer to refrigerator.
9:45pm - Turn dough, let rise in refrigerator overnight.
10:50pm - Take picture of dough in progress for TFL...  My tub is about 4L.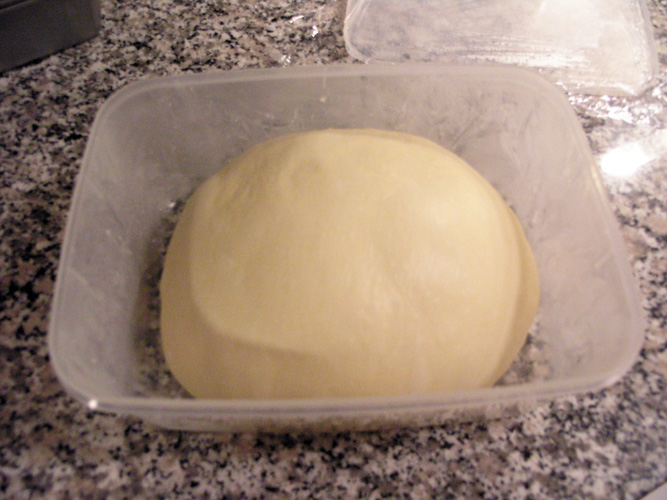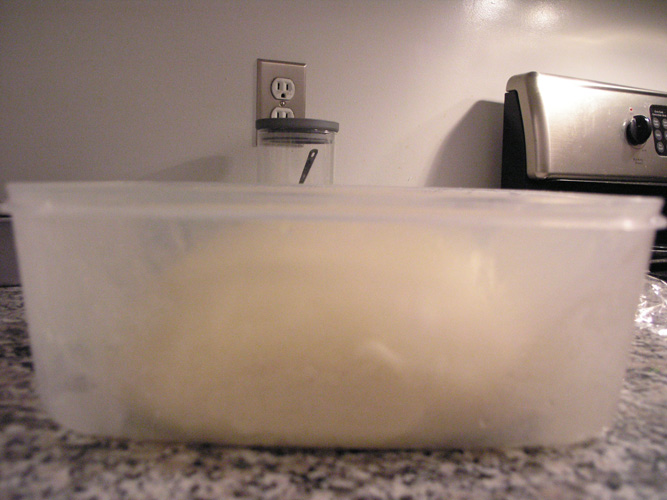 11:23pm - Turn dough (because I felt like it...)
To be continued tomorrow morning...