My husband had been diagnosed with hypoglycemia. The worsest thing is that he has been suffering from panic attack  since he pasted out at the work 3 years ago. I was too silly that I hadn't tried to use 100% whole wheat flour on my recipe. ( My old recipe was 54%(Actually 54.5%)whole wheat bread)  And yet he likes 55% whole wheat bread more than than 85% or 100%.
So, this is My 100% whole wheat bread and 85% whole wheat bread and  55% whole wheat bread recipe
(23cm x 10.5cm x 10.5cm) 100% -13cm height and 85% -13-14cm height and 55%- 13-14cm height after baking. 
Note: When you proof the dough too much  before baking, You will have really tall bread, but the top part will be really light.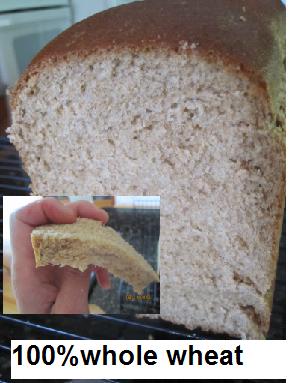 This is 55% whole wheat bread
*Yeast

5.3g

*Warm water  ( 40℃ or 100F)

180g

*Honey

24g

*Molasses

18g

*2 Egg yolk (L )  +Heavy whipping cream =

To warm up :10seconds in a microwave using normal mode.

80g

*Whole wheat flour for 100% or All purpose flour or bread flour for 85%

#All purpose flour for 55%

*100g

#200g

*Whole wheat flour for 100% and 85%

#whole wheat flour for 55%

*340g

#240g

Salt

8g

Butter

To soften :20 seconds in a microwave using defrost mode. 

18g

Melted butter for brushing after baking

 
#I always use all purpose flour. 
1.  Put * ingredients in order except *the flour in a big bowl and mix. Add *the flour and mix. Set aside.
2.
  LEFT: Put whole wheat flour and salt in a midium bowl. Right: set the butter in a small bowl. Top: No.1.
3.
 Put the flour and salt mixture in the food processor and hit pulse 5.6 times until combine.
4. 
Add *dough mixture and the butter run until combine about 40 seconds or so.
5. 
Take the dough out from the food processor, and clean *dough mixture bowl. Put the dough back in the food processor and run until combine.
6.
Time to knead by hand for 15 minutes.  Push it down and stretch and fold and repeat over and over. This is very important to get strong gluten development.
7.
Put some shortening on a large bowl, and place the dough in. Proof at 28℃ or 32F  for 50 minutes or until the loaf double in size.
8.Punch down to degas gently,Turn the dough onto a counter and divide in 2 and shape. ( It is much better to have beautiful loaf when you measure it) rest for 20 minutes.]
9. Shape : Both oval's height should be around 20cm. * pinch very well!
.
: Japanese bakery way
: My way: to have taller loaf.  Rolling on the second process. Take a look below.
10. Place each of the dough in a loaf pan like the picture below.( It will rise equally)
11.Pace the dough have equal space in the pan.
: Japanese bakery way ( This picture is white sandwich bread version →http://www.thefreshloaf.com/node/19174/54-whole-wheat-sandwich-bread)
 :My way
12. Proof at 38℃ or 100F  until the dough rises up a little over  the top of the pan. ( around 1.2 hours for 100% whole wheat bread and 1hour for 85% whole wheat bread) * The time is vary depends on the temprature.
13.Preheat the oven to 200℃ or 400F.  Decrease 180℃ or 350F and bake for 30 minutes.
14.Drop the pan with the loaf onto a ground about 15cm height to give the dough shock, and remove it immediately from the pan and cool on a rack for at least 1 hour or so, before slicing or serving. ( * Optional: Brush melted butter on the surface.)
100% whole wheat bread
85% whole wheat bread