August 12, 2010 - 10:45pm
Rustic loaf out of my Zorushi!
Hi,
A wonderful friend got a new Zo three months ago and kindly passed her perfectly good older model down to me. I have, since then, been learning how to use it. It's been about 20 years since I was a weekly baker so it took a while to get in the swing of things and to learn how to use the breadmachine, which was totally new to me.
For the last few weeks I have been searching for a way to make a chewier, more open, more rustic loaf, while retaining the ease of the breadmachine one bowl, pretty much effortless baking process.
Tonight I think I have made a real breakthrough!
This morning I dumped a cup of water and a cup of bread flour and a half teaspoon of yeast into the Zo. I programed the homemade cycle to preheat for 15 minutes, knead for 10 minutes, rise for 2 hours, rise again for 2 hours and then stop. In the early afternoon, about 4 and a half hours later I added another half-cup of water, 2 and a half cups of bread flour and a teaspoon of yeast and a teaspoon and a half of salt.
I set the home made cycle to preheat for 15 minutes again, to knead for 15 minutes, to rise for 2 hours on the first cycle, to rise for 2 hours on the second cycle and then to turn off.
I dumped the dough out gently, it was very sticky but had nice stretch to it and clung together as it slowly gave up it's grip from the Zo bowl. I floured the board lightly and stretched out the dough, folded it in thirds, turned and folded in thirds again and then gently tightened up the loaf and stretched it out into a long wide flat loaf on the pizza pan, sprinkled generously cornmeal, that I usually cook freeform loaves on. I covered it with saran instead of a tea towel because I was worried it would stick to dough.
I preheated the oven to 525 and put a cast iron skillet on the floor of the oven.

I let it rise for about an hour and then slid it into the oven on the pizza pan and poured boiling water into the skillet, closed up the oven and let it bake about 20 minutes until dark gold.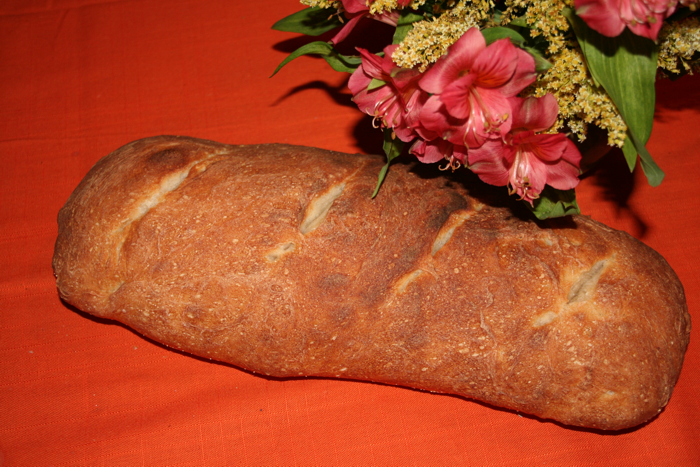 OMG.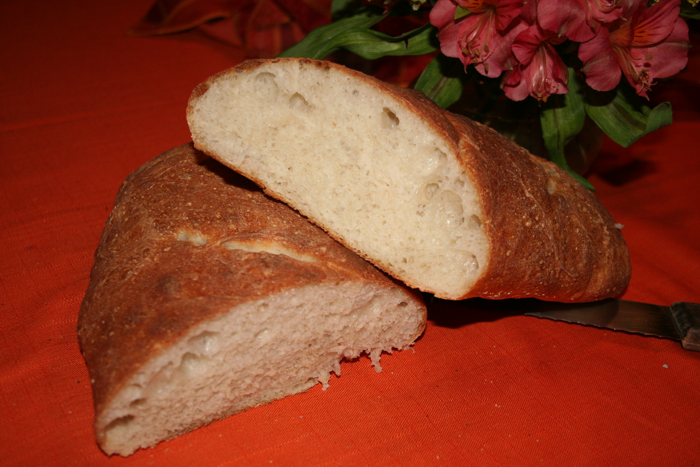 My family raved about the taste and texture. It came out so beautiful and more open than any of the previous loaves I have tried. The crust was thin and crisp with nice little blisters all over it, the body chewy and tender.
I have been reading thru the artesian recipe threads, the french bread lessons, the bread machine discussions, the poolish/preferments threads, absorbing all of the knowledge here. I feel like today's sucess was a direct result of all that wealth of information and experience everyone here has shared.
I am SURE I have room for improvment, but tonight?
I am so happy ; -)
Thank you all so much.