Tiroler Kuerbiskernbrot - Tyrolean Pumpkin Seed Mini Breads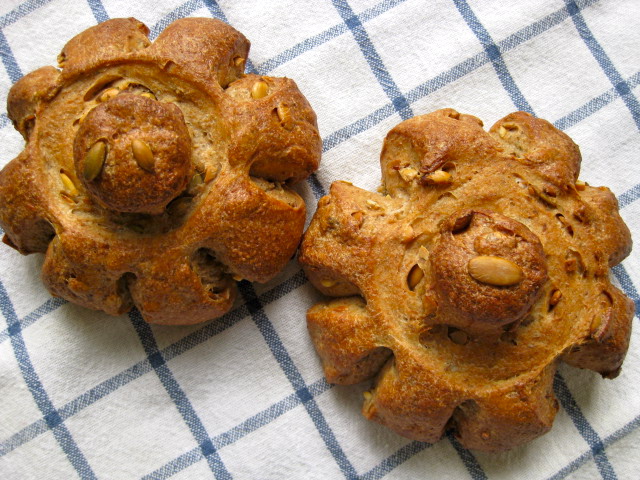 Ingredients:
340 g milk, at 95 F/35 C
6 g instant yeast
50 g rye flour
300 g spelt flour
150 g Italian 00 soft wheat flour (or pastry flour)*
10 g salt
5 g sugar, (1 tsp.)
30 g pumpkin seed oil (or other vegetable oil)
150 g pumpkin seeds, toasted
water or milk, for adjustments
1 egg, slightly beaten, for egg wash

DAY 1
Dissolve yeast in warm milk. Add to all other dough ingredients in mixing bowl. Mix together for 1 - 2 min. by hand or with mixer at low speed, until ingredients come together. Let dough rest for 5 min.

Knead dough for 2 min. at medium-low speed, adjusting with some water or milk as needed, dough should be smoother but still sticky. Continue kneading for another 4 min., the last 20 sec. at medium-high speed (or more vigorously by hand). Dough should be still somewhat sticky. Prepare clean, lightly oiled bowl.

Stretch and fold in bowl or on lightly floured work surface 4 times with 10 min. intervals (total time 40 min.) After last stretch and fold maneuver, cover bowl and immediately place into refrigerator for overnight fermentation (or up to 3 days).

DAY 2
Remove dough from refrigerator 2 hrs. before using.

Preheat oven to 410 F/210 C, including steam pan. Divide dough into 6 equal parts. Shape into boules or rolls and place seam side down on parchment lined baking sheet. Brush with egg wash.

With scissors, make 8 incisions around rim of each bread (see photo). Then, with small round cookie cutter, press down in the middle to create flowerlike shape. Spray lightly with oil, cover and proof for 30 - 45 min., or until breads are 1 1/2 times their original size.

Bake (with 1/2 cup hot water in steam pan) for 12 min., rotate baking sheet 180 degrees and remove steam pan. Continue baking for another 13 min., until breads are deep golden brown, sound hollow when knocked at bottom, and register at least 200 F/93 C.
* it is important to use low protein flour (Italian Tipo 00, pastry flour or some similiar soft wheat low gluten flour) - I tried it with all-purpose flour, but the consistency was not right!

This recipe is my adaptation from Richard Ploner's "Brot aus Suedtirol".