Variations on Polish Country Bread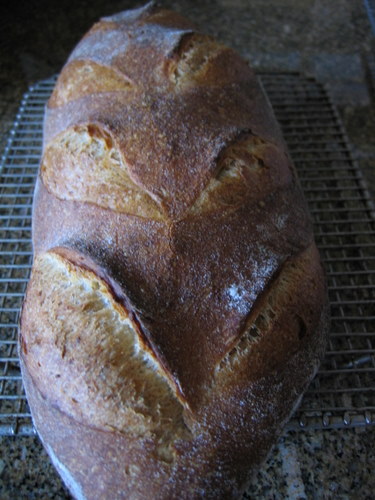 This past weekend I decided to revisit a favorite bread of mine - Polish Country Bread. Although I don't have Daniel Leader's "Local Breads" I've scrounged together a recipe from web searches that seems quite similar so far as I can tell. It's a 15% rye, where the entirety of the rye is in the starter. The hydration is 71% which I believe may be slightly lower than Leader's.
You can find my formula and thoughts on this variation of Leader's bread here on my website.
Lately, however, I've discovered the virtues of hot rye soakers in terms of the added sweetness they bring to rye breads, so I decided to attempt a variation-on-a-variation of his classic that still keeps all the rye within the starter - and the added soaker.
This necessitates a mixed levain bread since some of the rye is being removed from the levain to the soaker.
To make things easy (for me) I rearranged the formula so that the final dough would be essentially the same mix, with the single difference that the water weight would be reduced to offset the water used in the soaker.
2 x 1.5# loaves
Overall formula:                  Bakers Percent
Bread flour             733 g              85%
Rye flour                128 g               15%
Water                     610 g               71%
Salt                           16 g             1.90%
Mixed levains:    Flour         Water         Levain
White levain            56 g            56 g          21 g
Rye levain               56 g             56 g          11 g
Soaker:
Rye flour                  67 g
Water                      132 g
Final mix:
Sir Galahad/AP      733 g
Water                      356 g
Salt                            16 g
Levains                    256 g
Soaker                     199 g

Mixing:
The levains should be mixed 12 - 14 hours prior to use (depending on temperature, time may be decreased or increased. In DC just now, my levains are 'cooking' by 10 hours).
For the soaker, which should be made up at the same time as the levains, boil water and pour over rye, mixing until well incorporated. (Note: My last hot rye soaker used equal amounts of water and rye and almost immediately turned into a hard, dense, mass. Doubling the water helped noticeably, and next time I may triple the water as a percentage of flour.)
The next day I mixed together the water, levains and soaker, and then added flour and salt. Once I had a shaggy mass I covered the dough and allowed to sit for 30 minutes. (This is not a standard autolyse in that the levains and salt were added immediately. But I wanted to make certain that both levains and the soaker were well-dispersed from the get-go, so I decided to break with tradition and do an autolyse after all the ingredients were incorporated.)
After the rest, I mixed on speed 1 for 3 minutes, then on speed 2 for 2 minutes, and finally on speed 3 for 2 minutes. I've added speed 3 because this dough wants to climb up my hook and I've found that by increasing the speed it stays lower in the bowl and more quickly shows gluten development (slapping against the sides of the bowl).
Bulk fermentation is 2 hours, with two folds at 40 minute intervals. After preshaping and resting briefly, form into boules or batârds. Couche or proof in bannetons/brotforms for 2 - 2 ½ hours. Preheat oven to 460°F, presteam, and load loaves, steaming immediately and again after 2 minutes.
Bake at 460° for 15 minutes, and then reduce heat to 440° for another 30 - 35 minutes.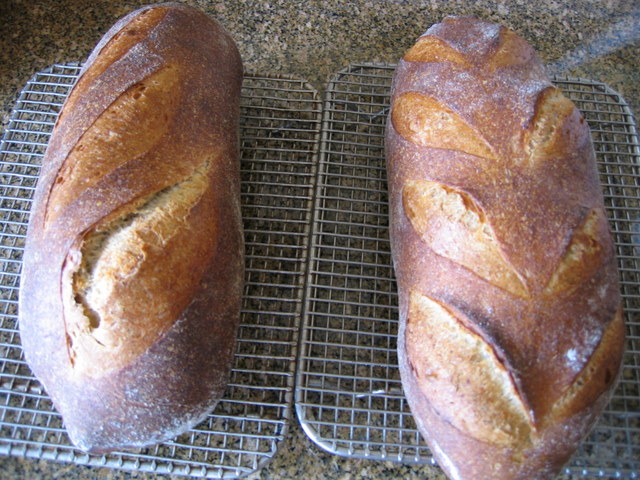 I'm still struggling to get my cuts to stay open in my (steam) leaky gas oven, as evidenced by the finished loaves. And my chevron slashing technique is in need of a lot more practice.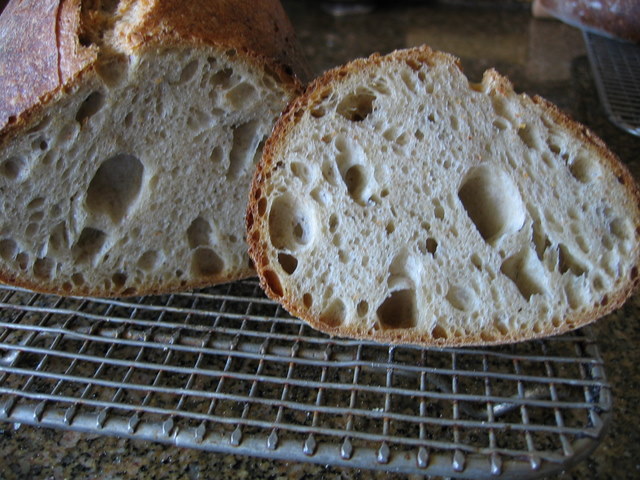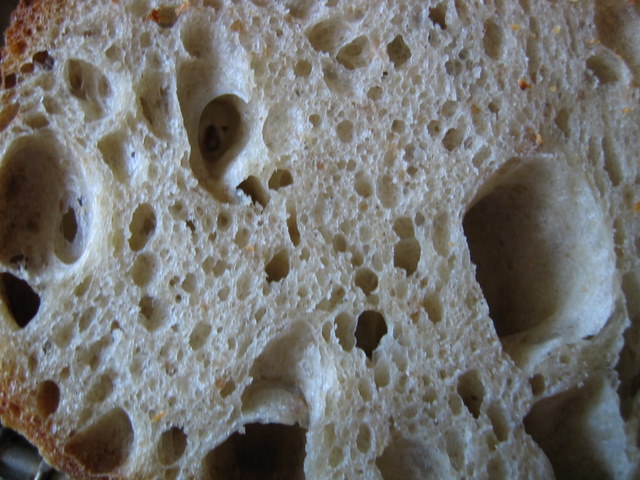 However, the crumb is nice and open and moist, and I really love the flavor of this bread. The hot soaker definitely brings additional sweetness. And this is absolutely sandwich bread. It recalls to my mind Jimmy Breslin's old Piels Beer commercials where he admonished us: "It's a good drinking beer!"
Well, this is a good eating bread!
EDIT (Jan. 23, 2011): My thanks to RonRay who pointed out in a message that my Overall Formula is incorrect in terms of Bread Flour weight and thus, overall hydration.  He correctly surmised that I had forgotten to factor my white levain into the overall bread flour weight. 
Actual figures for Overall Formula should be:
Bread flour: 799 g
Rye flour: 130 g
Water: 616 g
Salt: 16 g
This yields a dough with a hydration of 66%, NOT 71%.  My inclination would be to increase the hydration to at least 68%, which would entail increasing the water in the Final Mix from 356 g to 372 g.
Thanks again RonRay for an eagle eye!