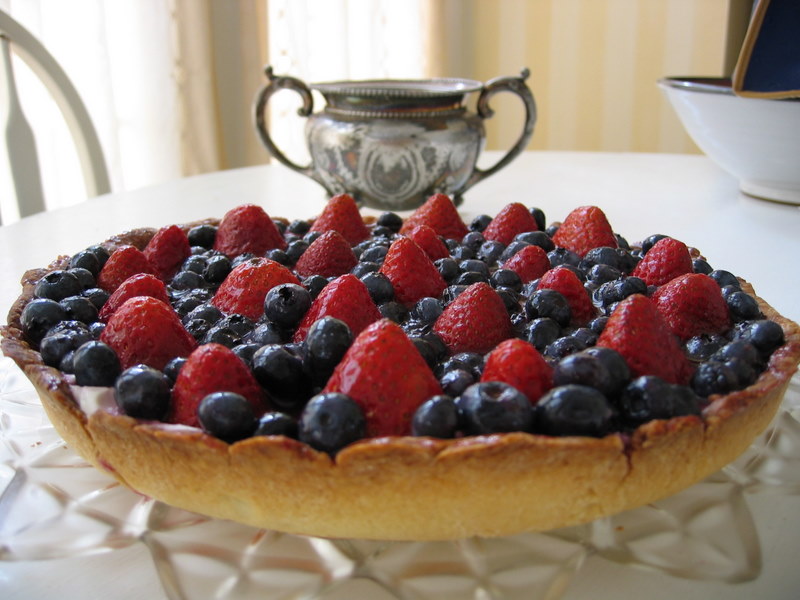 We are in high fruit season in the Washington, DC area, with fresh strawberries, blueberries, blackberries and especially peaches waiting to be picked and devoured.
I found myself with an abundance of strawberries and blueberries this past weekend, and wanted to find a summery, dessert use to which they could be put.  After looking through a number of recipes, I cobbled together bits and pieces and came up with this one for a cool, refreshing summer dessert full of these fruits - a tart using a faux marscapone and a glaze made from a small amount of jam I made with extra strawberries and blueberries.
It's a delight - and easy to boot!
This makes a single 10" tart.  Total fruit used was 1 lb of strawberries and 1 lb of blueberries.
Shell:

1 1/2 cups all-purpose flour
4 tablespoons sugar
1/8 teaspoon salt
8 tablespoons cold unsalted butter, cut into pieces
1 large egg yolk
1/4 teaspoon almond extract
4 tablespoons ice water
In food processor mix flour, salt and sugar.  Add butter cut into 1/4" pieces and blend just enough to achieve a course mixture.  Whisk together the egg, water and almond extract and drizzle into mixture while pulsing.  Once the dough forms a ball, stop and wrap in plastic and refrigerate for 30 minutes to 1 hour.
Faux Marscapone:
Of course, if you have the real deal at hand, ignore this.  But my local supermarket doesn't carry it, so I used this recipe which produces a credible substitute:
8 ounces of softened cream cheese
3 tablespoons of sour cream
2 tablespoons of heavy cream
3 tablespoons powdered sugar
1/4 tsp vanilla extract
1/4 tsp almond extract
Mix together all ingredients and refrigerate
Quick Jam:
½ lb strawberries
½ lb blueberries
2 cups sugar
1/8 cup lemon juice
Cut strawberries in roughly halves and reserve the pointed tops for the final fruit layer.  Place strawberries and blueberries in food processor and chop - but don't puree.  Place the fruit, sugar and lemon juice in a pan and bring to a boil, stirring frequently until the sugar is melted.  Bring to a roiling boil and maintain for about 10 minutes or until mixture reaches 220°F.  Remove from heat and cool.  Strain through a sieve enough of the mixture to yield about 1/4 cup of liquid which is reserved for the glaze.  The remainder can be refrigerated and used on those wonderful breads you're baking for breakfast toast!
Final Preparation:
Roll the chilled dough out on a floured counter to a diameter of about 11".  Spray tart dish with Pam or a substitute, dock dough with a fork and bake in a preheated oven at 375°F for about 25 minutes, until nicely browned.  Allow to cool and remove from tart dish.
Spoon the chilled faux marscapone mixture into the tart.  Arrange remaining 1/2 lb strawberries and 1/2 lb blueberries in the mixture.  Heat the 1/4 cup of jam glaze and brush over the tart.
Chill and serve!  Easy and a great way to celebrate some of summer's fruitful delights.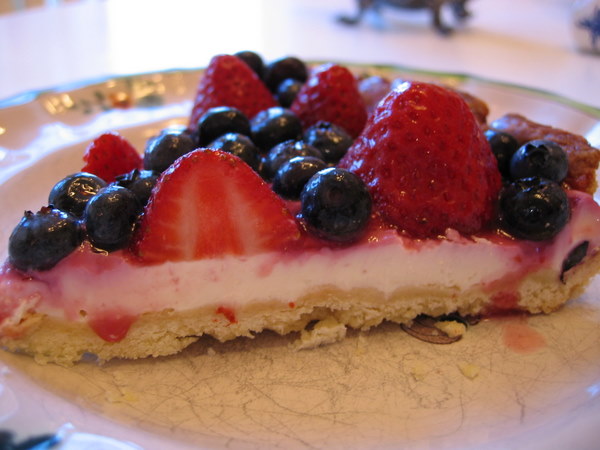 Larry