Sourdough with 1-2-3 Method
Baked my second sourdough ever yesterday, and I couldn't be happier with the results.
I used the 1-2-3 Method described by Shiao-Ping at Sourdough Companion. I was persuaded by its simplicity--no traditional recipe to follow, just a ratio.
The starter was a 50% hydration that had sat in the back of my fridge totally untouched for at least 5 months. It was based on Reinhart's starter formula in BBA; after a single failure of a loaf, I pushed it behind the mayo and forgot about it while pursuing other projects.
Then, last week, I read 52 Loaves and was inspired to give sourdough another shot. I poured off the hooch, scraped off the grey stuff, and spent four days nursing it back to vitality. Needless to say, I had my doubts.
Here's how the loaf turned out: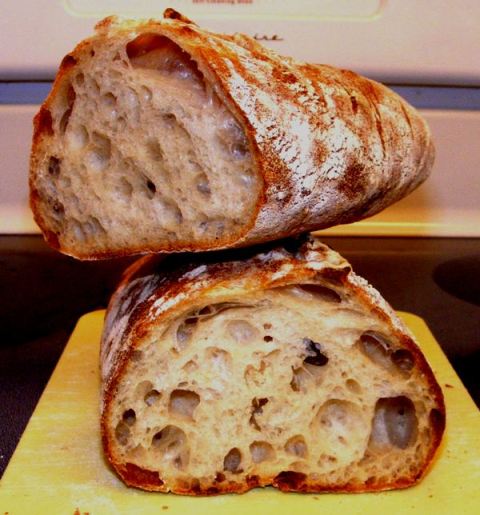 Here's the formula:
100 g 50% hydration levain
200 g water
35 g whole wheat flour
15 g rye
250 g bread flour
7 g salt
Mixed the starter and water, then added the whole wheat and rye, then the bread flour, approximately 50 grams at a time.
After all flours were mixed and hydrated, I let it rest 20 minutes, then added the salt, kneaded about 1 minute on lightly oiled counter, then proceed with a resting-kneading sequence in Dan Lepard fashion: rested 10 minutes, kneaded 10 secs, rested 10 minutes, kneaded 10 secs, rested 30 minutes, kneaded 10 secs, rested 1 hour, kneaded 10 secs).
After that sequence was over, I let it rise about 90 minutes, then preshaped, rested, and shaped it before placing it in a long basket with a towel. It proofed about 3.5 hours at 75F, at which point it passed the spring-back poke test. Loaded it onto my long, skinny homemade peel (not with out major sticking issues with the towel, unfortunately--hence, no scoring), then onto the bakin stone. 500F for 5 minutes (no steam, and I forgot to cover it with my roasting pan), then 450F for another 15. Internal temp was about 210F. Cooled, cut, and took pics.
I think it tastes great--especially with butter--but unfortunately no one else in my household likes sourdough. I think maybe they'll go for sourdough rye or a dark pumpernickel, so perhaps that'll be next. Also, the dough was pretty slack before the final shaping, so I think it could make a good pizza crust.
Overall, I can credit the 1-2-3 Method as the key here--it seems a very "village bakery" type of thing to do, especially when combined with the incredibly effective, non-labor-intensive kneading protocol advocated by Lepard. The more I bake, the more I appreciate simplicity.