Breaducation Bakery Fresh Tomato bread, June 29/10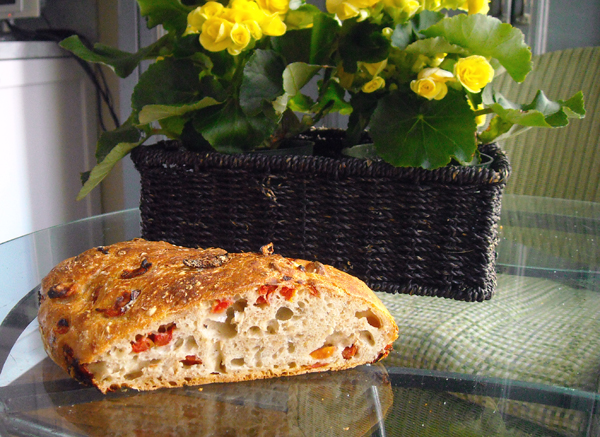 Continuing my experiments with Lahey bread...
I cut up fresh cherry tomatoes and a medium sized "regular" tomato, and threw in 2 tsps ground oregano. Then I hand-mixed them into my gorgeous, gorgeous Lahey dough which had fermented for 26 hours. It was a struggle, and when it ended, I thought I had thoroughly destroyed all the gas and air in the dough. I also thought that the dough had finished all the fermenting it was going to ferment, as it looked somewhat shiny, like a kind of cheap plastic. So with heavy heart (not really, it was fun!) I let it sit in my fermenting tub for another hour and fifteen minutes, not really expecting to see any change. To my surprise, back came at least a modicum of bubbles, and, taking no chances, I poured it onto a wheat-branned towel and did a sloppy. mimimal fold job as best as I could, and turned on my convection oven to 500-degrees. Twenty-minutes later, I was dismayed to see the dough was plaster-stuck to the towel (like an idiot I should have first turned the dough onto my counter and floured it before towel-wrapping it). Getting the dough into the pot was---ahem--an adventure, (and I had to throw the towel into the garbage). There really wasn't enough dough to fill my cast-iron pot properly, and what I managed to place into it looked like it had been torn apart by four fighting pitbulls pulling from all the points of the compass.
Naturally my expectations were low. Who ever heard of waiting for 26 hours to load veggies into a dough, to say nothing of eschewing the time-honoured tradition of inserting them by flattening the dough, distributing the pieces all over it, then rolling it up like a carpet? And to abuse the dough thoroughly (Lahey & Reinhart, excuse me), and pot it in such a sorry, flaccid state?
Well, this bread hardly came out singing Hallelujah --- a lot of the tomatoes gravitated too close to the crust, and the crumb was a wee bit over-moist and closed in places --- but it DID have a truly memorable crust, and the taste was first-class.
Question to anyone who reads this: any suggestiuons for next time, given the same ingredients? Comments would be appreciated greatly, since I am a complete novice. See another picture below.