This weekend I decided to return to the scene of my previous crimes in the name of croissants and have another go at them.  I've been spurred on in part by hansjoakim's magnificant croissants he shared with us a few weeks back, as well as by ensuring conversations involving him and ananda about differences in puff pastries and in the levels of butter and lamination involved in each.
One lesson I took away, is that my previous attempts have involved greater amounts of butter than is standard for croissants - about 38% of total dough weight, versus what I now understand to be 25% in classic croissant dough.
With this in mind, I went back to the drawing board and adapted a recipe from Dan DiMuzio's excellent textbook, Bread baking: An Artisan's Perspective.  It is quite similar to that of SteveB's which can be found on his blog, bread cetera.
As with previous attempts, I've deliberately frozen the croissants after shaping.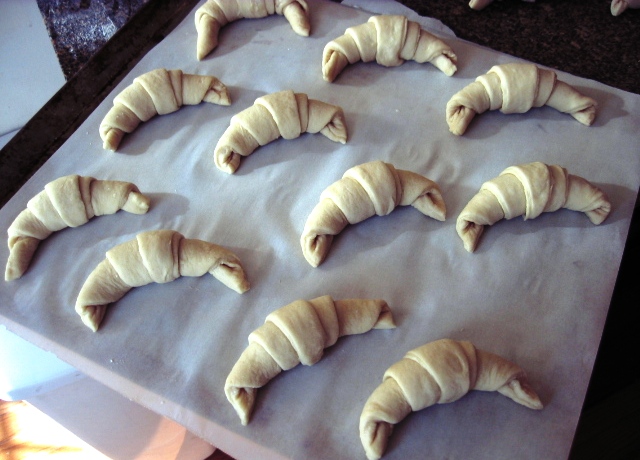 When needed, I move them from the freezer to refrigerator for about 12 hours (usually overnight), and then allow them to proof at room temperature for about 2 1/2 hours before applying eggwash and baking.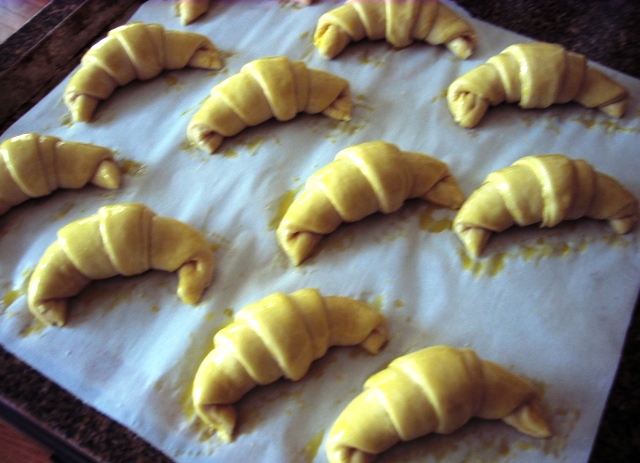 I've also followed DonD's method of baking, which involves starting the bake with steam at 425°F for 5 minutes, then turning the oven down to 400° for another 5 minutes, and finishing up at 375° for 5 minutes.  The resulting croissants turn a nice golden color, while the interior remains moist.
I also thawed and baked a half dozen croissants previously made with the higher butter percentage of 38% of dough weight to see how the results differed.  (And I threw in some pains au chocolat as well). 
Thus armed, I head over to my brothers, confident that between he and his wife and my nephew and niece I'd have an objective tasting audience :>)... well, at least an enthusiastic one.
So, here are the results.  First up, crumb shots of the latest batch of croissants with butter content equal to 25% of dough weight: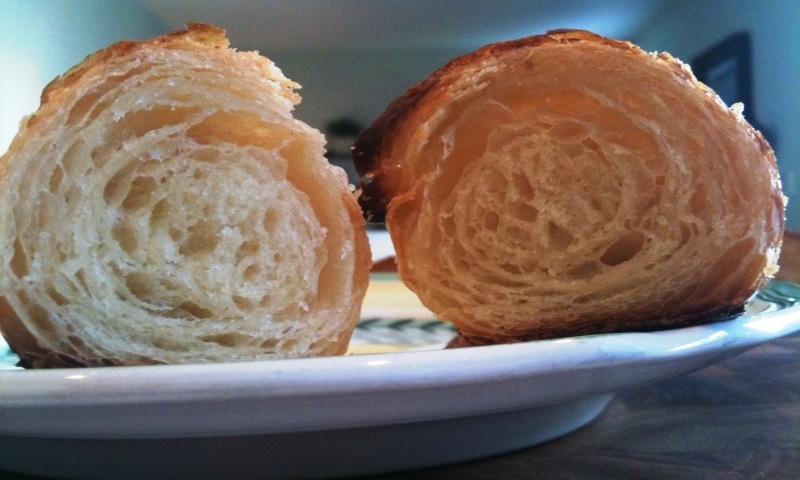 As you can see, the lamination is pretty distinct and my first reaction was that the decrease in butter shows in the crumb structure.
Ok, so on to my more buttery croissants: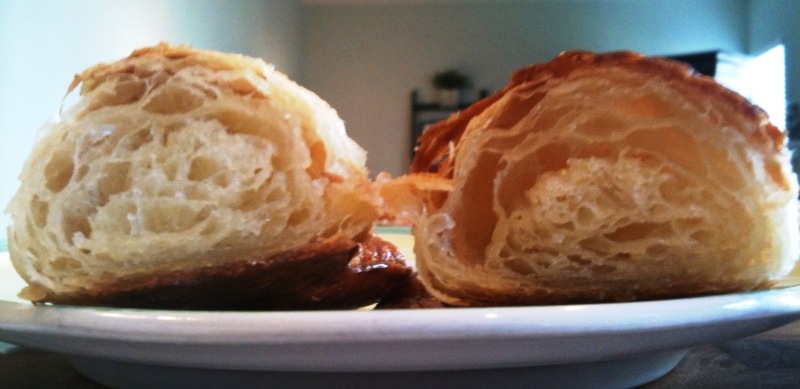 Not bad, but it seems clear to me that the crumb is not as well-defined, and I attribute this to the higher butter content.  (Although, I must confess, strictly from a taste standpoint, I prefer these - they just melt in your mouth).
Finally, my pain au chocolat, which is a definite improvement over past attempts at resurrecting from a frozen state: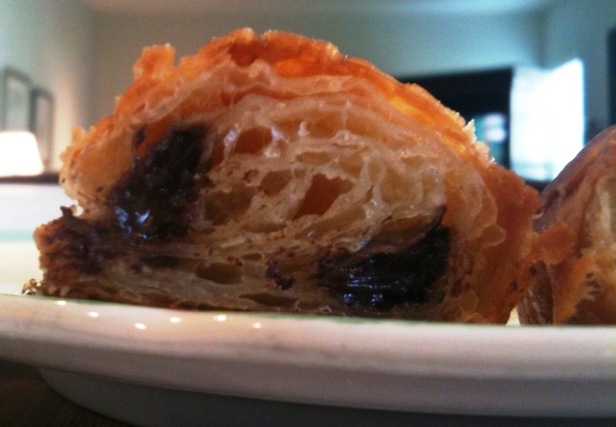 So, this has been an interesting and very instructive introduction for me to laminated pastries, to which I owe thanks again to hansjoakim, ananda and DonD for sharing their knowledge, insights and enthusiasm for this most wonderful viennoiserie!
Larry