A couple weekends worth of sourdough sandwich breads. Heres what we do:
1. Friday night (or morning, depending on room temperature) - feed starter with 2 oz each of water and AP flour. I use 8-hour two builds if possible, to get 8 oz of 100% hydration starter.
2. Saturday am - When the starter is ripe (bubble with fruity smell), add 12 oz flour and 8 oz water. Including 4 oz each of flour and water in the starter, this amounts to 16 oz flour and 12 oz water (75% hydration dough). We're flexible with the 12 oz of flour. Of the two loaves below, the top loaf was made with 5, 4 and 3 oz of whole wheat, white whole wheat and AP flour. The bottom loaf was made with 7 and 5 of whole wheat and white whole wheat flour respectively.
Notes: I store our flours in the freezer. I use the formula for desired dough temperature (DDT) to calculate water temperature.
3. Mix flour, water, 2 teaspoons gluten and starter - autolyse 30 minutes.
Note: I also added 1 tablespoon flax seeds to the bottom loaf.
4. Knead by hand for 10 minutes, till windowpane.
5. Rest, add salt and knead gently.
6. First rise for about 3 hours or till dough doubles. We did three stretch and folds for the top loaf. Went and got brunch while the bottom loaf was rising!
7. Deflate and roll real tight (such a lovely americanism) tp shape into sandwich loaf. Place in a greased 9 x 5 pan.A slightly smaller pan will give you a higher loaf. I don't worry too much about this.
8. Final proof for 3 hours or until it crests above the loaf pan. Note: We've also done overnight retards with good results.
9. Bake at 375 for 40 minutes. Internal temperature should read around 200 degrees F when done, the loaf should sound hollow.
Cool for an hour and slice.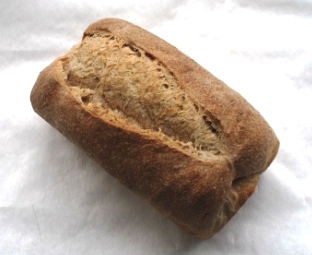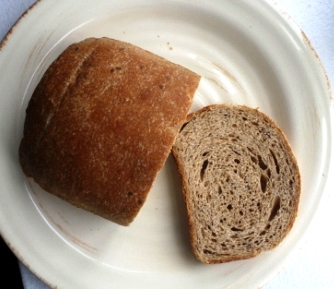 Taste and appearance: We have grown quite fond of this formula. The loaves have no butter / oil at all, and made for a perfect morning toast / sandwich bread. Sometimes, I will add a half cup of mashed potato or buttermilk, which tenderizes the loaf. These loaves showcase whole wheat - so if you enjoy whole wheat, this is a good recipe to try. IMHO, the critical steps were: 1) Working out 16:12 flour to water is a good size loaf for us, that resulted in the right crumb texture, 2) Knead till windowpane to coax gluten development in whole wheat, 3) I have to be flexible about rise times. Gotta run one's day by the dough's schedule and not vice-versa. If I add a teaspoon or less of yeast, I can cut down rising time to about 90-120 minutes. The best loaves we've made usually take 3-5 hours. I'm sure this will change as we apprach warmer weather.
Feel free to share your thoughts! All feedback welcome!