White Leaven Bread - Dan Lepard - My first attempt
With the starter that I made a week ago, I finally got to try a recipe using Dan Lepard - The Handmade Loaf.  White Leaven Bread Pg 28.
I halved the ingredient as I was not sure how it'll turn out.  With the freshly made starter,  I just did 1 refrehment.  Made a little too much,  and the rest went to making muffins and pancakes.
Ayway,  it was quite an experience.  I wanted a good well developed gluten,  and I wanted to nice holes in the crumbs.  I decided to do more rest,  stretch and fold and add my salt last.  
Thursday night:  Prepare Leaven.
Friday night:  Prepare dough - did a few 1/2 hour stretch and fold.  I almost forgot the salt,  added in after my 2nd or 3rd stretch and fold.   Shape - was really really careful not to burst those bubbles that were forming,  retard in fridge - wasn't sure about this step as I didn't want to over proof the dough.  But I needed my sleep.
Saturday morning:  Final baking - Heated my oven with cast iron skillet (since I had difficulty finding a baking stone,  this is a good alternative). I score the dough,  should have scored deeper.  I was not sure whether to steam the oven,  as the book only described to spray water on the dough.  I went ahead to steam the oven as well, every 10 minutes, squirt on the iron cast skillet.  I had difficulty sliding the dough from my pizza peel onto the skillet,  one of the ends drooped down,  tried to push it but was too late,  that portion would not budge.  Well,  I went ahead anyway.  Turning every 10 minutes as my oven couldn't turn with the skillet sitting on top of the turntable.  
I was really really pleased with the outcome.  The dough had a great oven spring, browned nicely,  and there were open crumbs,  and you can see the stretching of the gluten.
Even my father was happy about the outcome (he had been staying with me for the past month), and not exactly giving me compliments on my other breads so far. I think I can add a little more salt...The bread was not sour at all,  but has a nice fragrant to the taste.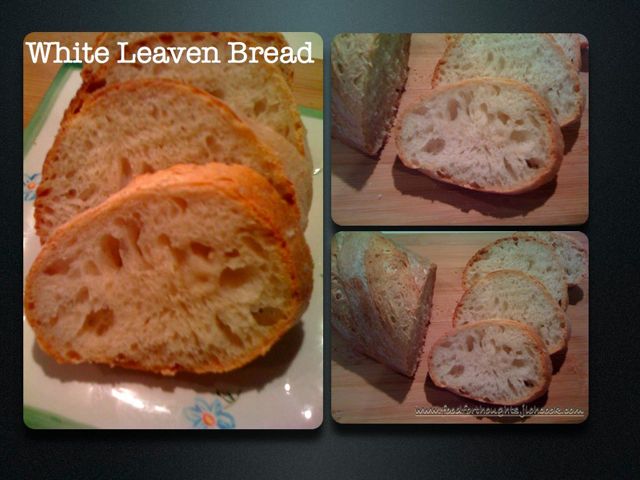 Jenny