Doc Tracy Saves Arizona from attack of the CROB Blob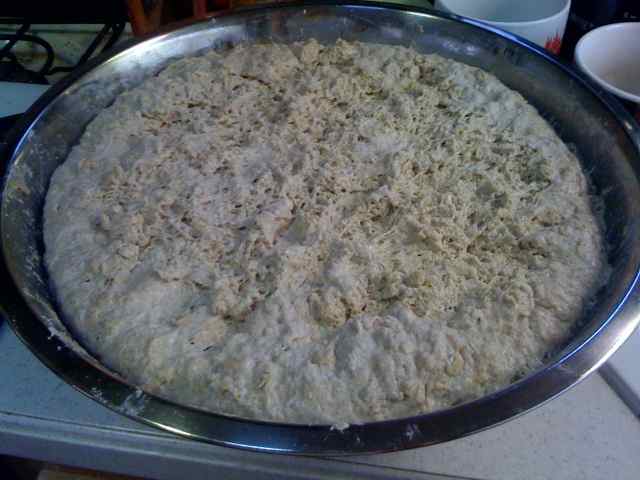 OK, I'm going in. I've got the Glock, the BAD (Bad Ass Doberman) AKA Princess Lucy, and Chalupa the Chihuahua as reinforcement. Also in hand are sharp scissors and a 10" bread knife. Entering the house, I use all my senses trying to detect the CROB. I'm concerned that the soupy, pancake like batter of the sourdough converted cinnamon raisin oatmeal bread (CROB) has escaped it's container in the fridge and is hiding somewhere in the empty house.
I enter the house without a sound. The dogs seem calm. So far so good. I pull open the fridge and see The CROB- Oh, my!! It's eaten the aluminum foil off it's bowl. I didn't know it could do that. In the 36 hours or so since I locked it up in the empty fridge it's risen over my giant, commercial sized stainless steel bowl and has eaten holes in the aluminum. It doubled, it tripled!! And it ate metal!!!! I knew I should have used plasticrap!
I wrestle the beast out of it's cold, dark cave and drag it into the heat of the Arizona springtime. It's not going to like this I think. Hmmm, smells really nice. I carry the hefty monster back to the RV and take a peek. Despite the grayish looking spots all over the top from dissolved aluminum foil, it looks much more bread dough-like than it did 2 days ago. I may be able to train this dragon yet.
But what to do with all those aluminum foil spots? Well, thank goodness I came armed for battle! I go at it with the bread knife and scissors and show no mercy. I hack and cut and hack and cut. Throw that dough in the compost bin where it belongs. Nasty bugger, metal eating monster! Now it looks better and I bet I have a more manageable amount of dough to work with too.
Get out those scales! Yes, the one that screwed up this dough in the first place. I weigh the dough and find that I have enough for 3 large loaves, just what I started with. Hmm, what a strange coincidence. Shaped the loaves, jelly rolled with brown sugar, cinnamon and honey. Put them in the pans. The beast has been tamed!
All that is left are 3 yummy CROB loaves cooling on the stovetop (which pretends to be a countertop in my cramped RV). Sourdough starter makes wonderful CROB.
Moral of the story- Make no more than 2 loaves of bread when playing around with a formula. CROB Blob attacks are far more lethal within the confines of the RV. Woe to the person who gets this rental RV next. There is a baby CROB culture growing in the plumbing.