Hey All,
Just wanted to share with you 3 boules from tonights bake.  It's a sort of whatever flour I had left recipe.  I will post a crumbshot tomorrow.  Enjoy!
Tim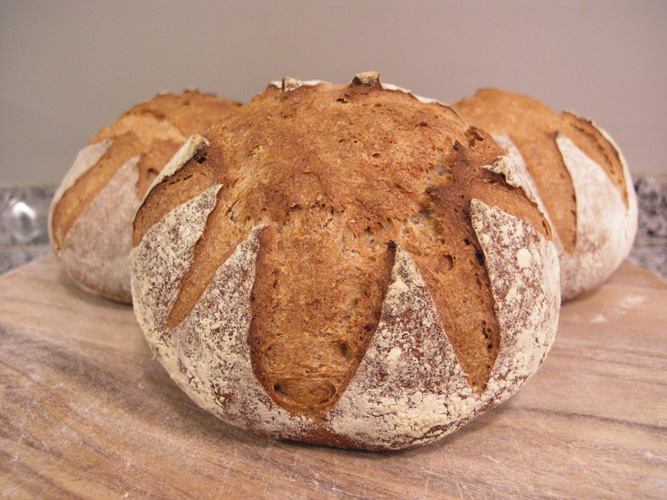 Ingredients:
Levain:
100g AP
50g SD starter at 60% hydr.
50g Water
Final Dough:
374g AP
314g WW
468g Water
14g Kosher Salt
200g Levain
1/4 tsp ADY
1371g Total Dough Yield
Instructions:
8:45am - Mix Levain
7:25pm - Mix final dough, cover, autolyse for 30 minutes.
8:00pm - Knead 1 minute using wet hands in mixing bowl without adding any extra flour, cover let rest.
8:30pm - Knead 1 minute, cover, let rest.
9:40pm - Divide into 3 equal parts, shape into boules, proof in lightly floured linen lined bannetons.  Arrange baking stones and steam tray in oven and preheat to 500F with convection.
10:30pm - Turn out boules onto peel, slash as desired, place in oven directly on stone.  When last loaf is in, add 1 cup water to steam tray, close.  Bake at 450F no convection for 10 minutes.  Rotate, bake for 30 more minutes.  Loaves are done when internal temp reaches 210F.  Cool completely before cutting and eating.