Good Afternoon everyone,
I would like to share a picture from my ciabatta i baked today afternoon.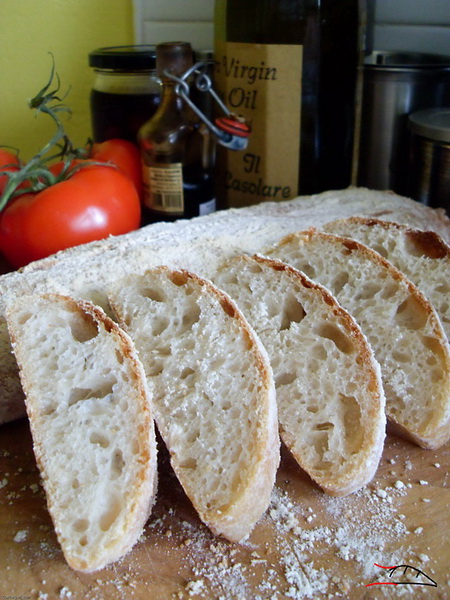 I mixed up the dough in the morning around 11am ish. Normaly mix it the night before but this time i never had the time for it. Anyway. I placed the sticky dough into a well oiled shallow container and covered with cling film. Let it rise until 2pm ish. Then strech-fold it once and left it in the tub until 4pm. I switched on my oven for 190C to heat. I poured the dough onto a well floured table and then devided into two. Brushed with some olive oil, dusted with flour and let it rest for 30min. Than carefully I lifted onto a baking sheet and chucked into the oven. It was take abt 25min to bake them.
The colour was lovely golden, nice crispy crust and delicius crumb. Normaly the longer fermentation results with a more open-crumb structure but it was still lovely.
Ingredients: 260gr flour, 230gr water, 6gr dry yeast, 1 tbsp olive oil, 1 tbsp salt + extra flour for dusting, extra oil for brushing.  
I based my recipe on a similar recipe submitted by LilDice on May 10, 2007.     
Happy Baking,
    Zoltan