This weekend I made bagels, pain au raisin, cream cheese snails, and pain poolish.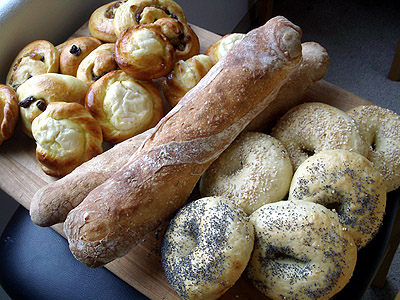 Bagels and snails were pretty easy. I'll post the snails recipe soon. The bagel recipe is here.
We ate one of the two pain poolish loaves last night. It was excellent. It'll be interesting to compare the other one to it tonight: I was pretty rough shaping the one we ate last night. It came out a beautiful dark brown. The other loaf I did not work as hard while shaping. It came out pretty pale. I suspect that that one may have been a little "over the hill" and would have benefited from being worked harder.
Once I get the pain poolish down I will post a recipe too.