Cannellini beans stewed with root vegetables, pancetta and served with Parmesan & toasted sourdough
The 'Stew' of the day:
Here Glasgow the weather is still wintery, Ok, today was abt 5hrs sun shine but yesterday abt 3hrs not rained out of the 24hr. Today I decided to use up some of my winter roots and some dried beans. About a week ago I brought some nice cannellini beans, even shape, nice shine, great texture and amazing taste. So I cooked this stew style dish and served with some of my leftover sourdough loaf, grated parmesan over it. I think its quite a nice dish if someobody likes beans as much as I do. And believe me I do love them.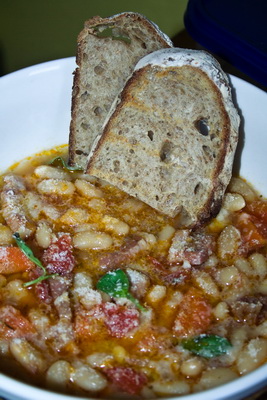 Here is the recipe 4 about 4 (if you are vegetarian leave out the pancetta)
2.5 espresso cup worth of cannellini beans
abt 100gr pancetta diced or cut into lardons
1 onion, diced
3 clove of garlic, scraped into a fine paste
1 large carrot, peeled, halved then sliced
good dash of olive oil (do not use E.V.O.)
few sprig of thyme
few sprig of basil
2 bay leaf
seasoning
3 large plum tomatoes (ripe), diced
100gr sliced salame piccante
abt 50-80gr diced celeriac
good handfull of parmesan, grated
left over sourdough bread
3 Knorr veg.stock cube mixed with abt 800ml water (you maybe not even gonna need all)
Heat olive oil, add onion, garlic, pancetta, carrots, celeriac. Cook for abt 5 minutes or until begin to colour.Add the tomatoes, beans, all the herbs and cover with the stock.Bring to the boil and simmer until the beans are absorved some of the stock. Keep them covered with the stock. When they are start to soften but still al dente add the sliced salame picante. Adjust the seasoning. Remove the thyme/bay/basil stems. (if you would like it as a soup then add more stock, adjust seasoning)
Now..if you have a stew...its your choice to decide how do you going to eat it. At lunch time me and my wonderful wife was eat with a handfull of parmesan and toasted sourdough, tomorrow...I think I'll going to put into some individual mini casserolle dishes and going to bake it with some sourdough on top and pecorino cheese. The soup will soak up in the bread while the cheese melt and caramelise on top.
Happy Cooking and Baking!
Zoltan