3/30/10 - 50% Spelt Sourdough Batards
Hey All,
Just wanted to share with you some spelt sourdough batards that I baked last night.  I'll post the recipe a little later.  Enjoy!
Tim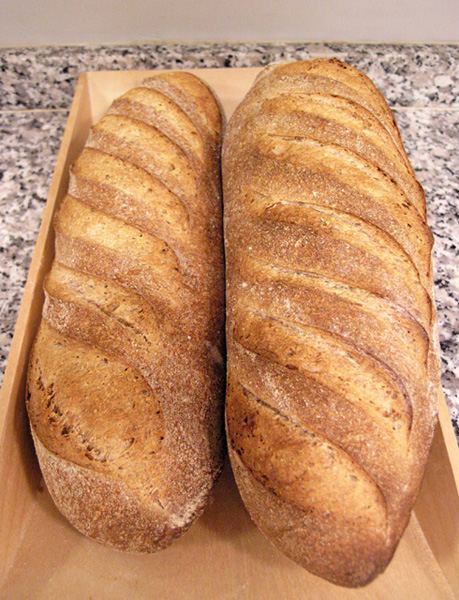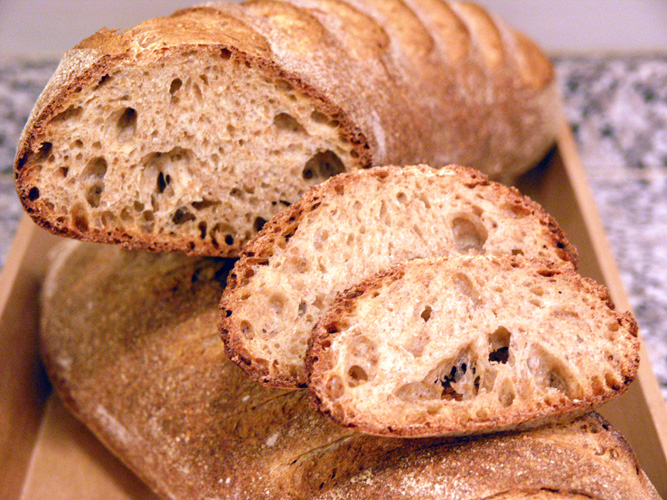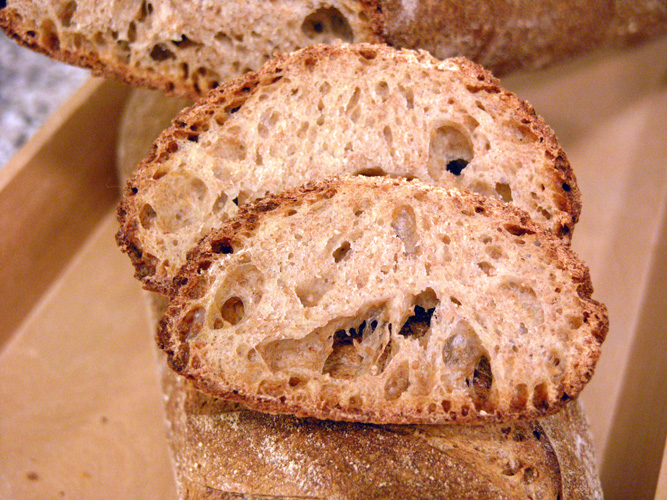 Total Recipe
500g Organic Spelt Berries (500%)
350g BF (35%)
150g AP (15%)
588g Water (58.8%)
20g Kosher Salt (2%) (I will probably do 1.8% salt next time)
60g Firm Sourdough Starter (60% Hydr) (6% of total flour, or 20% of levain flour)
1668g Total Dough
Makes 2 batards at approx 690g after bake
Spelt Levain (preferment 30% of total flour at 58% hydration)
150g Organic Spelt Berries (freshly ground)
150g AP
174g Water
60g Firm Sourdough Starter (60% Hydr)
534g Total
Final Dough
350g Organic Spelt Berries (freshly ground)
350g BF
414g Water
20g Kosher Salt
534g Spelt Levain
1668g Total
Instructions:
Evening before baking: Grind spelt berries for levain, cover and refrigerate.  This is just for convenience so I didn't have to grind in the morning.
Bake day:
8:30am - Mix spelt levain, cover and let rest on counter for 8-12 hours, go to work.
6:30pm - Measure out final dough ingredients, grind spelt berries.
7:00pm - Mix all ingredients for final dough in large mixing bowl by hand with wooden spoon until combined, then knead by hand in bown for 3 minutes.  Do not add any extra flour.  If dough sticks to your hand, scrape off with plastic scraper, dip hands into water and continue kneading.  Cover, let rest for 30 minutes.
7:30pm - Knead for 1 minute, cover and let rest.
8:05pm - Turn dough, cover and let rest.
10:00pm - Dough is ready when it has expanded, and when you poke it with a wet finger, the impression remains.  Divide into 2 equal pieces, shape into batards, proof seam side up on very lightly floured couche, cover with plastic bag so they don't dry out.
10:45pm - Arrange baking stone, stones in oven along with steam pan.  Preheat to 550F with convection.
11:30pm - Turn batards onto peel, slash as desired, place into oven directly on stone.  When they are all loaded, place 1 cup of water into steam pan, close oven door, turn down to 450F no convection.  Bake for 45 minutes, rotating half way through bake.  Cool completely before cutting.
Notes: I am using a hand crank grain mill.  This tends to grind the bran a little coarse.  Also, make sure that your grain mill is well lubicated with a food safe lubricant.  I am just using mineral oil, the kind you use to oil wooden cutting boards.
Mixing: My technique is a follows.  In a large mixing bowl, put the water in first, cut up the stiff levain in pieces, place that in next, then add the flours, and salt.  Mix with wooden spoon until combined, scrape down the sides of the bowl, and spoon, then knead by hand using wet hands.  Do not add any extra flour.
Autolyse: Just place the entire bowl in a large plastic bag.
Turning: I turn in the same bowl so I don't have to add any extra flour.  You can either stretch and fold, or just knead a few strokes and turn the dough ball seam side down.
Submitted to Yeastspotting