Hamelmans Baguettes with Poolish
I have been working on Sam Fromartz's mixed yeast and levain, long ferment method for baguettes. I know Hamelman prefers the poolish preferment method and I have to say I like the aroma that comes off the poolish better than almost anything. So, I decided early this morning to start the poolish and spent the day rereading the chapters on preferment of yeasted breads in Bread.
Along the way, I read over a sentence I had no doubt seen several times in the past, concerning steaming and baking on Page 100. Here in plain common words I discovered something I don't recall ever seeing before that I think is going to change my breads for the better. Hamelman is saying that for the home baker, after the steam period, the door can be propped open with a spoon for the remainder of the bake to help give a crisp crust in the drying phase of the bake. I have turned the oven off and left the bread in the oven at the end of baking to crisp the crust and make it slightly thicker and easier to cut after cool down. But never have I had the door propped open for 18 minutes. Right out of the oven the crust is hard and well colored. Now that it has cooled and been cut, I'm a little surprised that it's more open. The crumb is airy but not the dense crumb with many larger size holes. This is more like foam with a few larger holes. Honestly, I'm not sure why at this point. I'll have to think on it over night as it's already past my bed time. :>) I think I like the flavor better with these over the long refrigerated ferment. I still have another 700g of dough in the fridge I saved to bake Saturday so we'll see how that is after the overnight.
Eric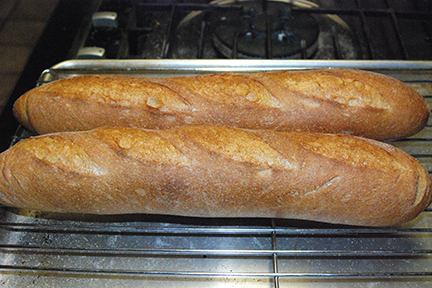 These were baked for 24 minutes at 470F. They are 350 grams pre bake.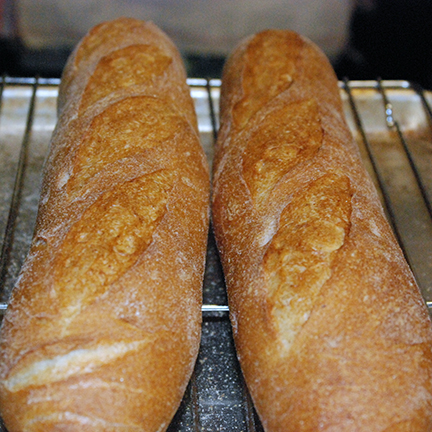 The loaf on the left got 4 slashes and looks a little over proofed at 1-1/2 hours to me.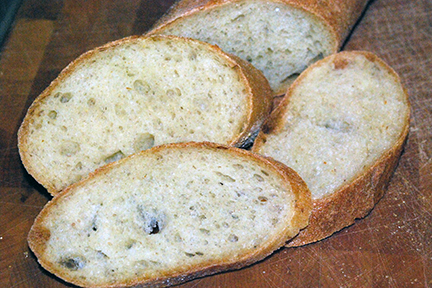 Not quite as open as I like but good for brochette.