February 8, 2010 - 11:02pm
Small Miches, Pointe-à-Callière and Straight Sourdough 70% Hydration
Inspired by Shiao-Ping's Miche, Pointe-à-Callière from mid-January, and by the excellent efforts of other bakers here, I decided to try my own hand at this loaf.  My wife requested some loaves for her sister's birthday coming up soon, and it seemed a good opportunity to try this.  I have never had Hamelman's book in hand, and have not baked this loaf before, so I followed Shiao-Ping's excellent instructions for this bake. My only departures were to blend my own flours from home-milled hard red ww and hard white ww plus KA AP flours,  to extend the bulk fermentation to about 14 hours due to limitations of life, and to bake the dough as two smaller loaves, which resulted in much shortened baking times, so we could keep one at home to try for ourselves.  I was reassured to find my impressions of the dough development to be almost exactly in parallel with Shiao-Ping's observations from her blog post referenced above.
At the same time, in need of more gift loaves, I continued to push my exploration of higher hydrations in my own straight sourdough formula, with this bake done at 70% hydration.  The resulting loaves had amazing oven spring, and the flavor is just excellent.  The crumb is tender and creamy, and has a very distinct but subtle flavor.  This dough was also bulk fermented in the refrigerator for about 14 hours alongside the Pointe-à-Callière.  This resulted in very good flavor, but not a strong sour.  The higher hydration had me worried during the development of the dough, but after the bulk fermentation the dough had come together almost startlingly firmly.  Formation and proofing resulted in loaves with very good integrity despite being the highest hydration dough I have made thus far in this exploration.
Here are the loaves together.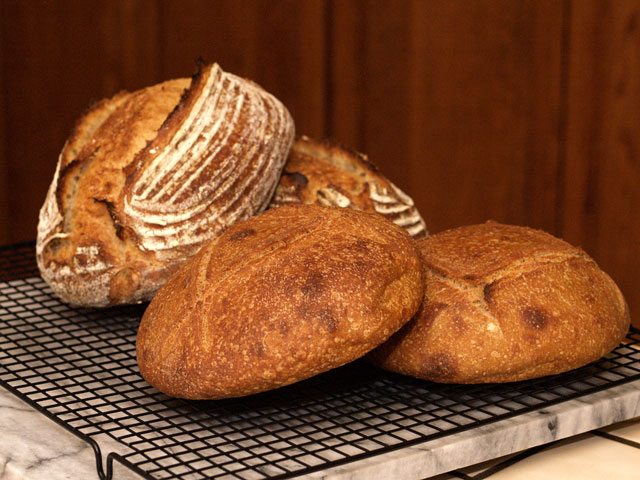 and a better look at the Pointe-à-Callière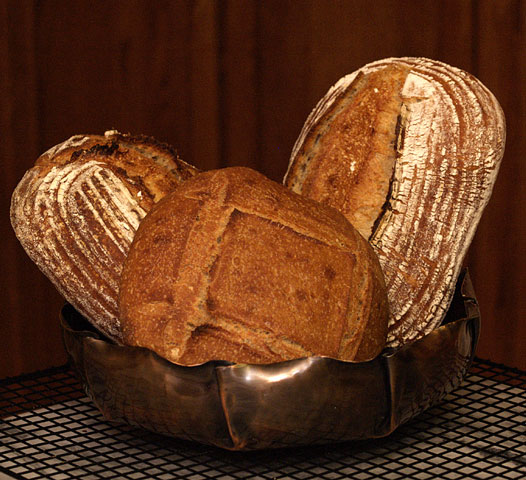 Here is the straight sourdough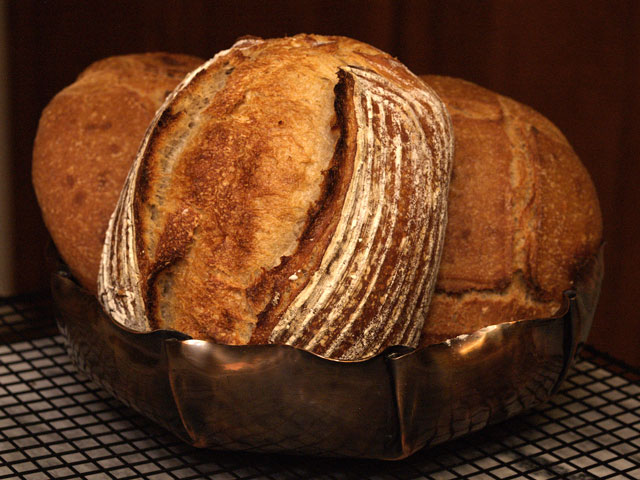 I must admit I am quite pleased with the results of both of these breads.  The miches had wonderful spring in the oven compared to my previous attempts at a whole wheat loaf, and the sourdough was also a very good performer on that score.  I wish I had pictures of the miche loaves before baking because they looked almost dead to me.  I was not only pleased but quite surprised at the spring and life in them in the oven.  They taught me a great deal about judging dough for future reference.
The crumbs of both are also quite nice.  I succeeded in getting much better gelatinization in the crumb of both loaves in this bake than I have accomplished previously.  Now, if I can just zero in on the factors that led to it!  I am focusing on the high hydration levels as the primary contributors at the moment, together with the La Cloche baker.  I baked all of these loaves one-by-one en cloche.  I also extended the time under cover to 20 minutes, and left the oven at the full 500F temperature for the full 20 minutes.  I lowered the temperature to 460F just before opening the oven to uncover each loaf.
Here are crumb shots of each, beginning with the Pointe-à-Callière.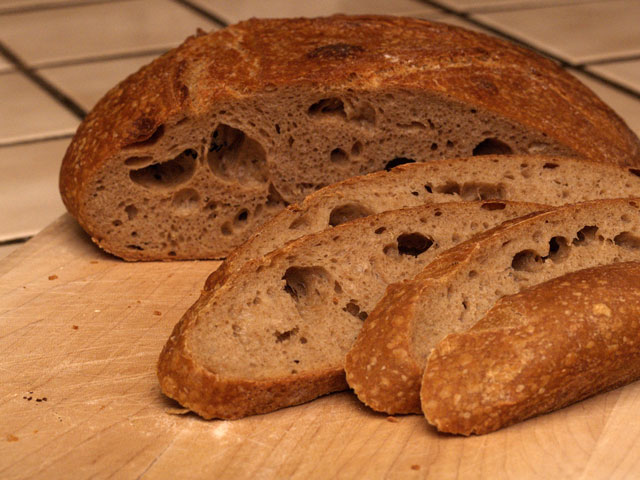 and the sourdough looks like this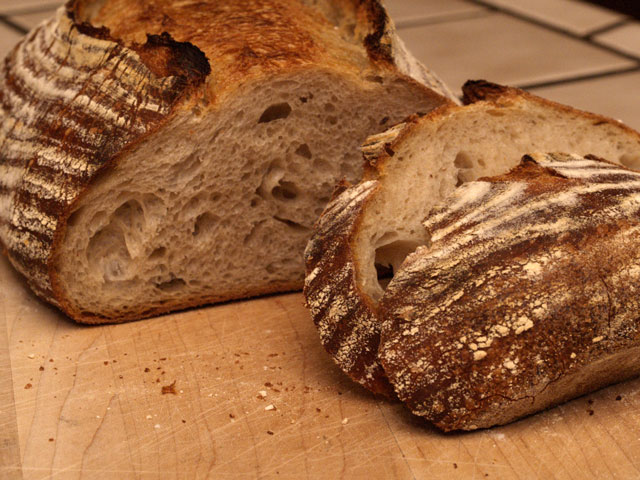 While I am feeling pretty proud of these loaves, and especially of the Pointe-à-Callière, I am not sure if this is the way the loaf is "supposed to" come out.  For one thing, I wish I had floured the loaf a bit prior to baking.  As it is, it finished with that "wet sandstone" finish I find very typical of my past high hydration whole wheat efforts.  I have seen the same thing in pan loaves I have baked, and I don't find it very attractive.  Shiao Ping's presentation is much more winsome!  Also, the flavor is pretty mild, and I was expecting a much sharper sour flavor after the long cold bulk fermentation, similar to other Hamelman loaves I've tried.  Could this just be the nature of my starter?  I don't object, but it was not quite what I thought was expected here.
Thank you for reading this far!  Happy Baking
OldWoodenSpoon