February 7, 2010 - 11:20am
2/5/10 - Baguette Redemption... Modified Pain a' l'ancienne Baguettes
Hey All,
I'm sure you've seen my post here venting about my breads not turning out very well:
http://www.thefreshloaf.com/node/16100/perfect-baguette-eludes-me-my-breads-are-getting-worse
Anyway, I was inspired to try a Pain a' l'ancienne Baguette from here:
http://www.applepiepatispate.com/bread/pain-ancienne-french-baguette/
Of course, I can't seem to stick to recipes, so here is what I did instead: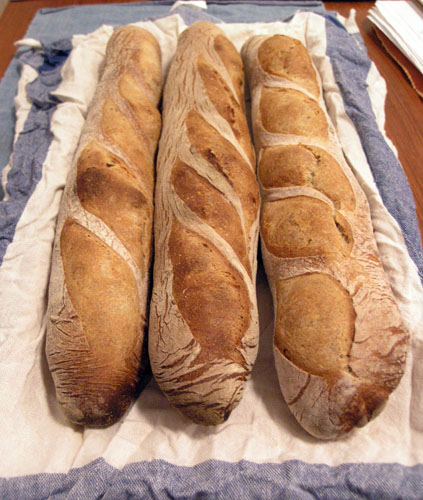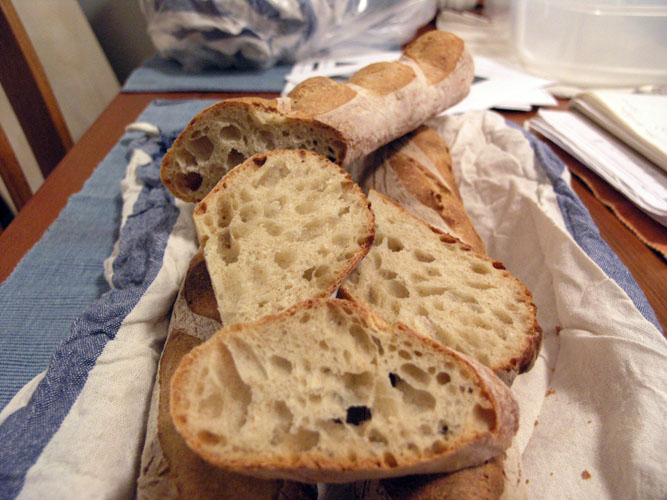 Total Ingredients:
350g AP (Whole Foods 365)
100g BF (KA Bread Flour)
100g Graham Flour (Bob's Red Mill)
350g Water
10g Kosher Salt
100g Firm Sourdough Starter (60% Hydr. straight from fridge)
2g Active Dry Yeast (1/2 tsp)
Total Dough Weight 937g
Directions:
Day 1
Make soaker with the following:
175g AP
100g BF
50g Graham Flour
325 g Cool Water
-Mix all ingredients, place in a bowl or plastic container, cover and refrigerate for 24hrs.
Day 2
650g Soaker from Day 1
175g AP
100g Firm Sourdough Starter
25g Cool Water
10g Kosher Salt
1/2 tsp Active Dry Yeast
-Mix all ingredients in large bowl, cover and let rest (autolyse) for 20-30 minutes.
-Knead 50 strokes in bowl, cover and rest for 1 hr.
-Turn dough on lightly floured surface, return to bowl, cover and let ferment for 2 hrs.
-Divide into 3 equal pieces, preshape into loose ovals, cover and let rest for 15 minutes.
-Place baking stone on 2nd rack from top, arrange steam pan with lava rocks under stone, off to side, and preheat oven to 500F with convection.
-Shape baguettes by rolling and stretching them gently until they are betwen 15-16" long.
-Proof for 45 minutes on linen couche.
-To bake, place them on peel, slash using lame or sharp razor/knife, place in oven directly on stone.  Add 1 cup of water to steam pan, close oven door, bake for 10 minutes at 460F with convection.  Rotate and bake for another 18 minutes without convection, or until internal temp registers 210F.  Cool for at least 30 minutes before eating...
Notes: I should have baked them at 480F and then at 460F after rotating.
Enjoy!
Tim