February 4, 2010 - 11:16pm
Need help with baker's math in spreadsheet!
I am building a spreadsheet to help me develop formulas for breads. I'm gaining a much better understanding of baker's math in this process. However, I am getting some discrepancies in my calculations that I just can't seem to understand. I'm looking for help.
As an exercise, I'm working with a dough with the following parameters: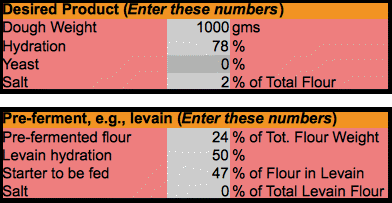 My spreadsheet calculates the amount of levain I need and how I should feed it. Another part of the spreadsheet calculates the amounts needed of each ingredient, including the levain. These two calculations of the levain amount are yielding different answers. I can't figure out why.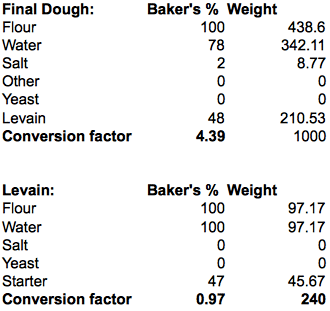 Can anyone explain why the Final Dough says I need 210.53 gms of levain, while the Levain calculations says I need 240 gms of levain?
Thanks in advance.
David