January 21, 2010 - 6:51pm
TFL's Hall of Fame - stand up and be counted!
I wanted to do this at the end of 2009 - my way of saying thanks to everyone here who blogged so enthusiastically, sharing their knowhow.  But client work got in the way, so I managed to complete it only today.
I signed up on TFL about 11 months ago, not having an ounce of experience in bread baking.  After taking the plunge, I realized dough and yeast weren't aliens in my small universe, and I should have made friends with them a long time ago.  So yes, there are a hundred ways to "skin the cat", and I'm learning those ways slowly.  I have now started taking that sourdough journey which I kept postponing.  I won't get it up to perfection in one crunchy chomp, but I will be posting my first sourdough shortly.  I followed the lead by DMSnyder who was kind enough to point me to Susan's wild yeast site.
In the meantime, I've got this cruel propensity for making pseudo bread...and pseudo poetry.  Here's what I think of some of you, and for those whose names I missed, I didn't do it intentionally.  TFL is a great talent magnet, and it has attracted the best and the brightest.  But instead of a blog, I've done a blubfest (in not so nauseating proportions).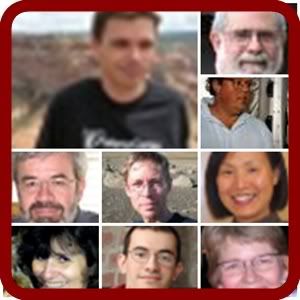 First, hats off to Floyd - our host, Drupal programmer and fund-raiser,
So busy, he forgot our domain, but acted quickly on it - like a laser!
The Fresh Loaf has come full circle, and then featured in Saveur,
Mercy, Mercy!  What he's done for humanity and for our levure!
"It's nice to get up in the mornin" says Captain DMSnyder,
We know why.  With those loaves, he's getting all that fibre.
Generous, he shares a baker's dozen of tips on shaping and scoring,
Greek bread, Suas and torta de patate - in his hands, they're never boring!
Seen ehanner's twisted boules and white thyme bread yet?
Steps look complicated but they'd make an excellent bet.
PMcCool's, "I think I'm starting to get a hang of this" should be our mantra,
He finally found the flours he needs...in South Africa!
Hans Joakim - fully disguised as the vampire in Twilight,
His schrotbot, cocoa almond sponge...dare take a bite?
His patisserie so beguiling, seductive...such teasers, my he's a genius,
I read his posts like an addict, they're far from tedious.
Psst...Shiao Ping is looking for Waldo, should we join in the search?
She's shooting birds and exotic fruits up on a perch.
Taking a break from the heat, she prefers to be al fresco,
A fine lady who didn't leave her heart in San Francsico!
Last year I asked Marni about the round challah and she gave me the link,
When it came out of the oven, I was charmed and gave it a wink.
Debra Wink, Debra Wink, what a brain you've got,
Your love for science has made us more an educated lot.
Levieto natural con segale integrale, now that's a mouthful,
But JoeVa made it and he wasn't in the least boastful.
Let's not forget Susan and her wild yeast blog - a real treasure chest,
Norwich sourdough, sesame sourdough, all at their best!
Guess who forgot the salt the other day?  Maxiemolly!
But no matter, she's got that gorgeous array, by golly.
I spotted Milwaukeecooking somewhere in this flood of blogs,
Her sun dried tomato with parmesan, I could give it lotsa hugs!
History trivia for you:  who in 1976 made her first challah?
Hint:  she said, "it cheaper than therapy", ha-ha-ha!
Trailrunner, who else?  Caught a glimpse of Txfarmer's sourdough pandoro?
No doubt it'll pass the test, because he's detailed and thorough.
TattooedTonka posted a step-by-step on bagels,
Was he guided by his dog or by his angels?
Was that SylviaH in New Orleans, forking beignets at Cafe du Monde?
Perhaps...but we know her Christmas panettone had texture and bone (I mean "tone")
1/3.5/4.16 - not lottery numbers but MiniOven's rye loaf formula,
At least she's open and isn't as secretive as Coca-Cola.
Speaking of formulas, DocTracy has a love affair with excel spreadsheets,
Instead of counting sheep, he'd rather crunch numbers...and not bake with beets.
Breads and spreads, critters and crawlers were in davidg618's open house,
Did those delicious smells trolly outside, attracting the neighbor's mouse?
Arlo says he can't stop baking and loves his liquid starter,
Bake away Arlo, but don't let it expand...am talkin about your garter.
Stephanie Brim came up with 100% whole wheat needing more honey,
But looks like she's got it down pat, giving Julia a run for her money.
Yippee's milk sandwiches and 3-stage Hamelman 90% rye,
I'd be in her dining room in a second, and don't wanna say goodbye!
Also to MC (Bombance), simusi yoshi, proth5, LindyD, Meedo and Paddy's cake,
I'd love to nosh and quaff, shall I meet you "loafers" by the lake?
Pamela alias xaipete - haven't seen you of late,
Please come back so we can again watch you bake!
Thank you all,
ques2008 (sharon)