January 7, 2010 - 12:25pm
So just reporting back from the croissant front, it got all rather messy (really my fault though), as the margarine was too soft. But nothing gets wasted so I added more flour, shaped one part of the dough into rolls and the other into a braided loaf. It turned out well in the end, and I'm going to give the croissants another shot.
So below are the rolls made from spelt four (white), soya drink and margarine, topped with poppy seeds.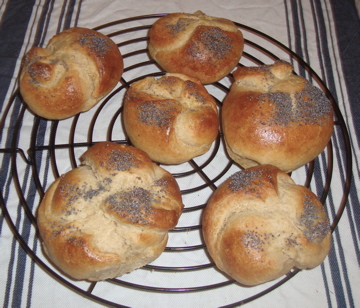 And here we have a loaf form topped with sliced almonds. I also brushed the rolls and loaf with egg and soya drink.