Fresh Grapes & Cherries Pain au Levain
What do you do when you bought the wrong grapes and your children and house guests don't eat them?  I don't mind the odd seeds in the grapes; I chew them and swallow them.  They are good for you.  Plenty of anti-oxidant in the grape seeds!  But do you think I can get my family to eat these beautiful grapes? 
Holiday seasons at our household seem to come with endless sessions of drinking every day.  When the sun is setting and the western sky is showing multiple rosy hues, it's time to have a dip in the pool and put on fresh clean clothes for the nightly drinks.  The housewife of this household is ever ready to put on an Hors d'œuvre or two to go with the wine. 
Grapes are the best friend to accompany cheeses.  So as the succulent juicy cherries!  How often do you get to eat them?  I don't know about you, but where I come from, cherries are decadent.  After many years of draught in Queensland (Australia), we have just had a bumper year of rain.  The draught seems to have broken.  What seemed to be expensive fruits in prior years are now very cheap.
Anyway, the long and the short was I had too much of grapes and cherries in my household.  So what did I do?  I made them into a fresh grapes and cherries sourdough: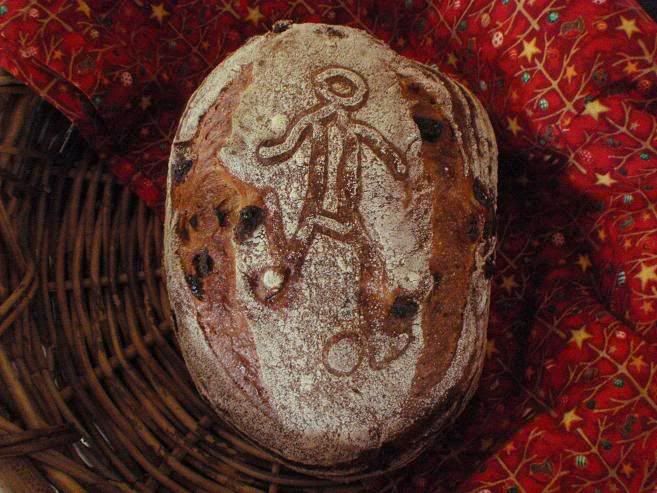 My son had her girl friend visiting for the day.  The shape of the sourdough is for him but the taste combination is for her.  I used a brotform that I have which has a boy playing soccer engraved on the bottom of the basket to get the stencil effect on the crust.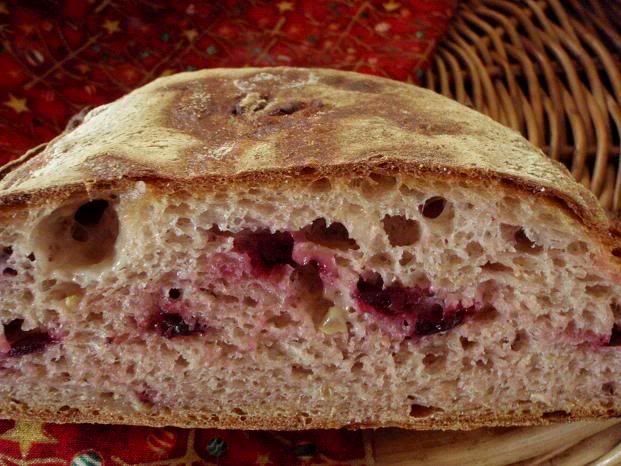 Unfortunately, cherries and grapes sourdough is not a boy's thing.  My son didn't like it.  But both his girl friend and I loved it.  She said it is very "springy," and she is right.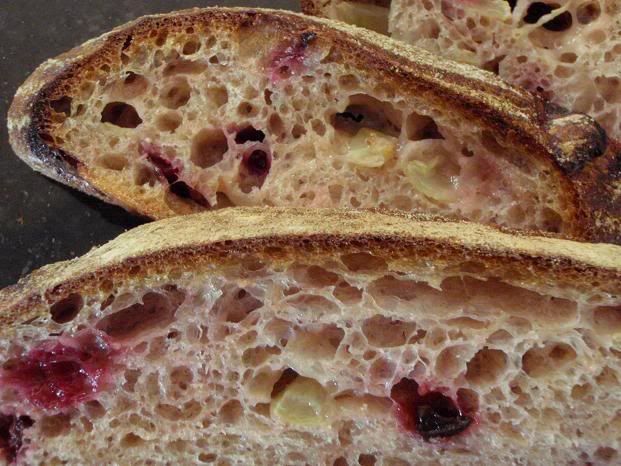 The making of this pain au levain was a bit tedious but I enjoyed it.  
(1) First, I pureed 1/2 kg of non-seedless purple grapes (skin, seeds, and all), put the pulp through a fine sieve and got 345 grams of grape juice.  I let this stand overnight along side my starter which was refreshed.  (I secretly hoped that some yeasts might develop out of the grape juice.  A long while ago I cultured a grape starter.  It was very powerful.  I had to put it to sleep by making it into dry powder.  I haven't used it since.)
(2) I took the stones out of 160 grams of cherries and got 145 grams of small diced pieces.
(3) I chopped up 160 grams of green seedless grapes.
(4) The next morning, I was ready to mix the dough.  I had a sip of the grape juice and found that it was too sweet to use all of it.  Too bad.  I had wanted to use it to color my dough.  The little beasties in my starter might drawn and die of thirst if I used all of it; who knows.  I ended up using only 200 grams.
(5) I aimed for a dough of 65% overall hydration before the fresh fruits were added.  Once the fruits were incorporated, the overall dough hydration would increase as some liquid would be squeezed out during the mixing and folding.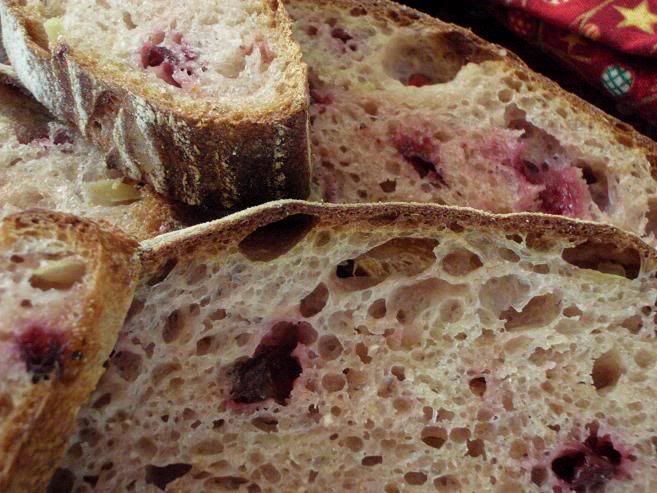 Here is my list of ingredients :
338 g ripe 60%-hydration starter
50 g medium rye flour
100 g whole wheat flour
553 g bread flour
267 g water
18 g salt
200 g purple grape juice (as above)
145 g diced cherries (as above)
160 g diced green seedless grapes (as above)
Total dough weight was 1830 g and the overall dough hydration felt like 72 - 73%.  (Note:  if your starter is 75% or 100% hydration, reduce water to 237 g or 198 g, respectively.)
Mix all ingredients except the fruits.  Autolyse 30 minutes.
First set of stretch and folds of 20 - 30 strokes.  Rest 30 - 45 minutes.
Spread 1/2 of the cut fruits on a work bench, stretch the dough to cover the fruits, then top the dough with the remaining fruits.  Fold the fruits into the dough with a plastic scraper or by hand (50 - 60 strokes). 
Rest 30 minutes.  As some liquid is squeezed out of the fruits, the dough is now wetter and may require two more stretch and folds of at least 30 - 40 strokes for further dough strength.
The rest of the procedure is standard.  (As my room temperature was warm, total fermentation time was slightly less than 4 hours.  I retarded the shaped dough overnight in the fridge and baked it the next morning.)
I recognized something very similar in the crumb structure of this bread as in the Pain au Levain with Praline Rose that I did in mid October.   I think the presence of a relatively high level of sweetness in both cases resulted in very open interior structure.  The little yeast beasties really liked what I fed them in the final dough.  They were able to digest the foods (the sugar) and, you know what, the bread did not taste sweet at all!  In fact, this bread tastes pleasantly sour (apart from being very "springy;" i.e., chewy, as my son's girl friend said).  This sourness to me is not like the normal acidity that we get in a very sour dourdough.  It is different from when we say a Miche is sour.  To me it is halfway in between lactic acidity and fruity sourness. 
(Where has the sugar gone?)
Shiao-Ping