December 22, 2009 - 7:55pm
I never tasted a Stollen let alone thought I would make one! I first got the notion to bake one when I was reading a blog about French folds and hand mixing of breads. I followed the link which led me to a video by Richard Bertinet of sweet doughs (I highly recommend it for those of you that have not seen it yet) and a recipe for stollen.  I really liked the way the recipe and the finished product looked and I really was into the hand mixing technique. That would of been too easy....instead I made the mistake of Googeling Stollen. I had no idea how many different variations there are on a stollen....from Germany to Poland...they all have a little different take...the very traditional Dresdner Stollen.....another @Hefe und Mehr- german blog....and a mouth watering recipe at Bakers Süpke `s World......the one that got my attention was a chocolate stollen @Domestic Goddess in training......an American version with a German influence @Joe Pastry and a Mohn Quark Stollen which is a poppy seed and fruit stollen which I am going to try next week....eventually I found my way back to Chef Bertinet recipe with a recipe from the United Kingdom by Chef Madalene Bonvine-Hamel @British Larde. I gathered all my material together for the Stollen and e-mailed Susan at Wild Yeast with a question about osmotolerant yeast.....She said "I made the SFBI stollen in class and it is a good one!" Ok ...that would make it easy which one to choose, it is a proven recipe and I just got the book.
I read the SFBI recipe and it said add all to bowl and mix…I thought I knew better…and in the back of my head from all the post I read I thought I had to  develop the gluten before adding the ton of butter....I threw in the sponge,eggs and started to mix...the flour barely formed a ball....panic set in...I added some water...I reread the formula to make sure I didn't leave out something...and realizes that Baby Jesus threw me a curve....I should of realized it at first... most of the moisture came butter. After a good while of mixing the dough came together with a good gluten structure. I was very relieved that is was able to save it...I divided the dough in six pieces and gently spread them into ovals....I applied the filling of Creme' d'almond that Chef Bertinet used along with the cut up pieces of marzipan to the bottom layer and also applied the filling under the top fold....the stollen was finished with a drunken butter wash and plenty of sugar topping.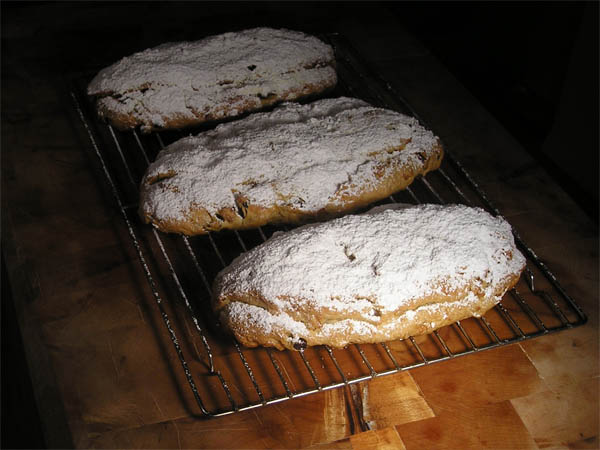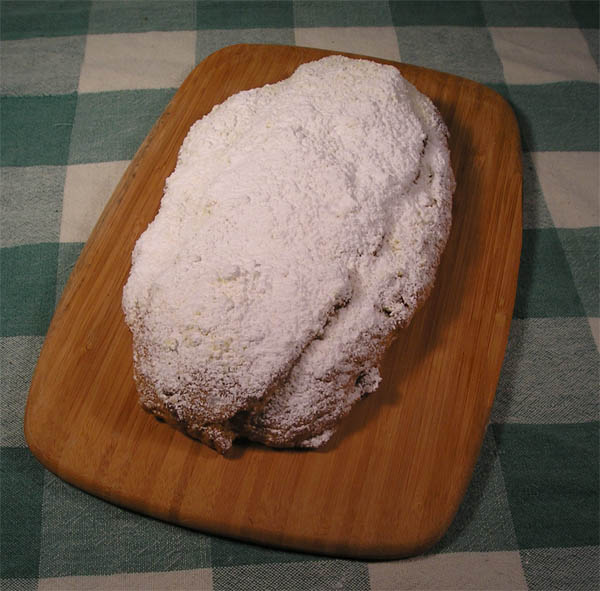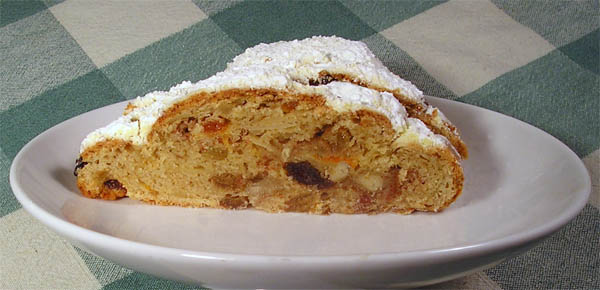 This is being sent to MaMa Claus @ Yeastspotting  HoHoHo....