November 19, 2009 - 3:00pm
Lunettes with Fig Filling
These pastries are made of croissant dough and filled with a fig filling.  Apparently lunettes are, among other things, eyeglasses in French.  You could use any croissant dough you liked, but the dough I used for these was whole wheat with a sponge from ABAP, by Suas.  2 lbs. of detrempe (dough before adding the roll-in butter) made 12 lunettes.  I rolled out the dough to about 18" x 12".  After spreading the filling on the whole surface I rolled the dough up from each end lengthwise.  The resulting roll was 12" long and I cut it into 12 1" slices with a serrated knife.  It was necessary to clean off the knife after every two cuts because the fig filling stuck to it.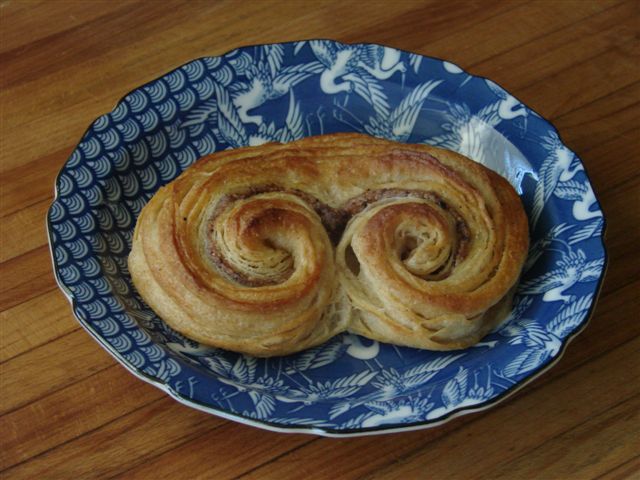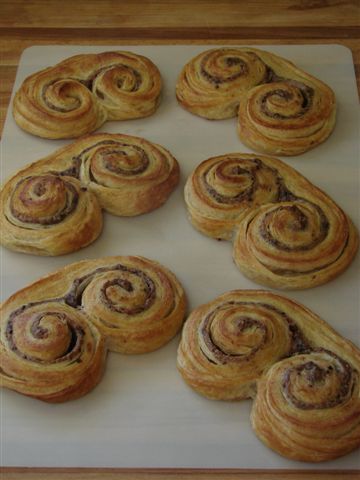 This amount of filling is plenty (or maybe too much) for a dozen lunettes.  Suas warns against using too much filling because it will make the makeup difficult.  I used about 1/2 to 2/3 of the filling described below.  The taste of the filling is subtle--next time I will try using a bit more.  I used the almond meal from Trader Joe's which comes in 1 pound bags.  It is made from unblanched almonds (peel and all) so it's not good for things that need a light colored almond paste.
The fig filling formula in ABAP called for almond paste which I took to mean marzipan so I approximated it with the following.

Fig filling
Part 1 - Almond paste
Mix together the following:
6 oz. Ground almonds or almond flour (don't need to be blanched because the filling will be dark anyway due to the figs)
6.5 oz. Powdered sugar
1 egg white
¼ t. vanilla extract
½ t. almond extract
½ t. lemon or lime juice

Part 2 - Fig filling (somewhat based on ABAP)
5.5 oz. Dried figs that were chopped very fine in a food processor
¼ t. orange extract (or equivalent amount of orange zest)
2 egg whites
2 t. brandy
Combine these ingredients with the almond paste and after several hours, when dried figs have had time to hydrate, add enough water to make the filling spreadable. It should be like fairly thick jam, but without chunks of fruit. The amount of water needed depends on how dry the figs are--the amount of water needed depends on how dry the figs are.