November 17, 2009 - 9:09pm
My son's 2nd grade class toured Franz Bakery today.  I chaperoned this trip, naturally.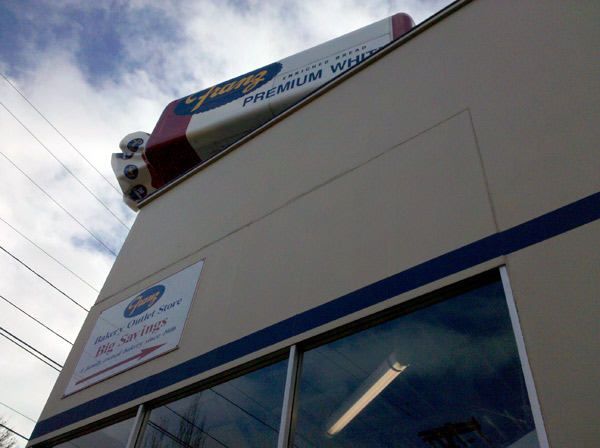 Franz is a landmark in Portland, in part because it has been here over 100 years but also because of the giant rotating loaf of bread on the roof (only a few blocks away there is a giant rotating quart of milk).  Franz Bakery bakes all of the buns for Wendy's, Arby's, Burgerville, and a bunch of other fast food joints out here as well as thousands of loaves of bread each day.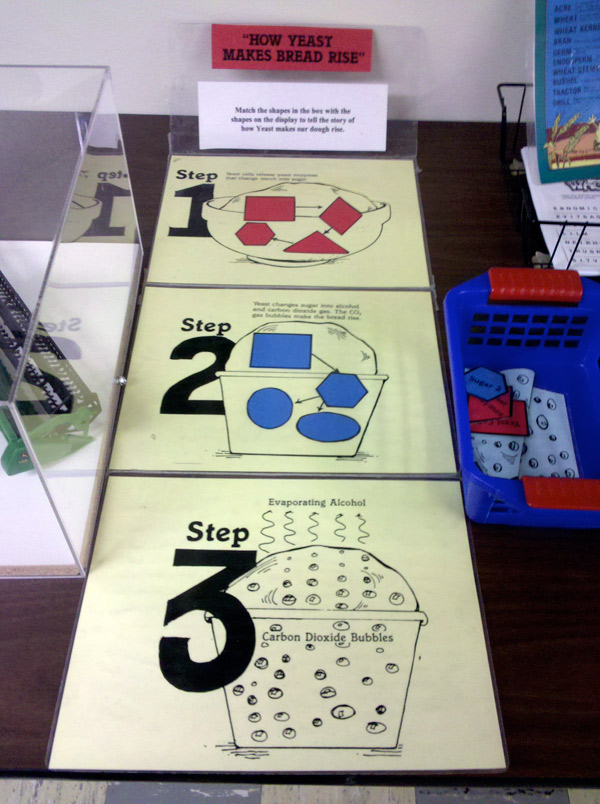 The tour began in an area that had information about how you make bread, where wheat and flour come from, how yeast works, those sorts of things.   It was pretty cute but my son didn't find it terribly interesting, probably in part because his dad has told him these things 20 times already.
After that, we had to get on our hair nets and the tour began.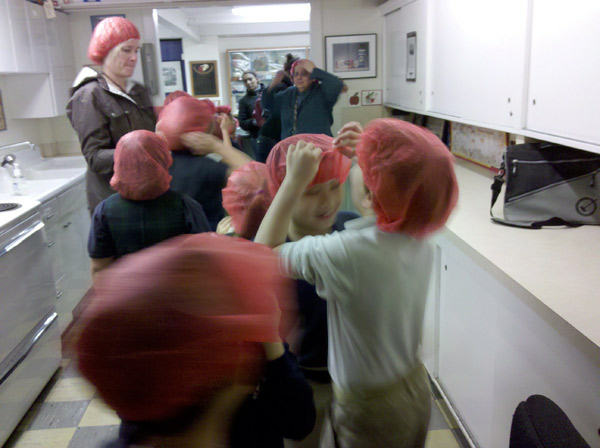 Unfortunately cameras were not allowed on the tour.  I noticed other parents surreptitiously taking shots but I was too concerned with keeping small fingers out of the machinery to take photos once the tour began.  A few things I noted though:
Franz is a bread factory, not a bakery as I think of bakeries.  I'm not making a value judgement in saying that, just noting that everything I saw was done by machine with operators tending to the machines, not bakers tending to the dough.
Ingredient-wise I saw palettes full of different flours including those from Cargill and Pendleton Flour Mill.
Dough was mixed in 1,000 pound batches, then dumped into troughs where it fermented for an hour or so.
Machines shaped the buns then slid them into a proofing machine that is kept around 100 degrees where they stayed for 50 minutes.
Buns travel through a 100 foot long oven for about 8 minutes to bake.
The buns are cooled on a track that travels all around the building before heading into the packaging room.
Watching the loaves fly around, I got this song stuck in my head (if you've watched Looney Tunes you'll know what I'm talking about).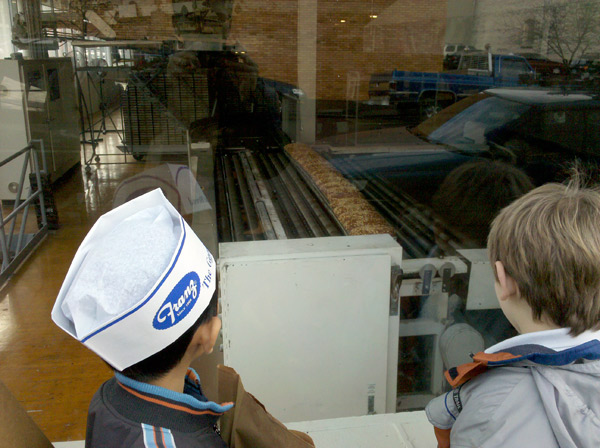 The kids enjoyed the tour a lot, frankly a lot better than they would have enjoyed a tour of an artisan bakery with a single small oven and a dedicated group of earnest bakers talking about the nuances of fermentation.  I enjoyed it too and gotta admit it is impressive that they can automate so much of the baking process.  I was also pleased to hear that there is increasing demand to use local and organic ingredients even when baking on an industrial scale.
Finally, one knick knack I saw on the tour that I liked: