November 8, 2009 - 7:18pm
Baguette Tasting in Montreal
Background: 
Having a number of high school friends living in Montreal, I have had the opportunity to visit this city quite a few times over the years. I have always enjoyed its cosmopolitan charm and the French influences that have permeated its history and culture especially in the area of gastronomy.
Recently, my wife and I drove to Montreal to visit a close friend. He and his wife always treated us to the best breakfast of baguettes and croissants with farm fresh butter and raw milk cheeses, the kind that came closest to what you would find in France. Being the avid baker that I am, I came up with the idea to do a tasting of the best baguettes that Montreal has to offer.
Setting:
We decided to taste a traditional baguette each from four of the most popular artisanal bakeries in Montreal. The tasting took place within three hours of the purchase and our tasting group consistted of six people.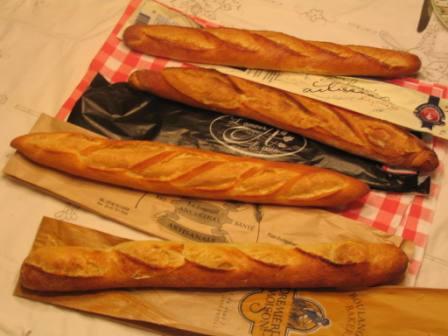 From the top down, the baguettes were from Au Pain Dore, L'Amour du Pain, Le Fournil Ancestral and Premiere Moisson.
Results:
The results were unanimous and the rankings were as follows
1- Premiere Moisson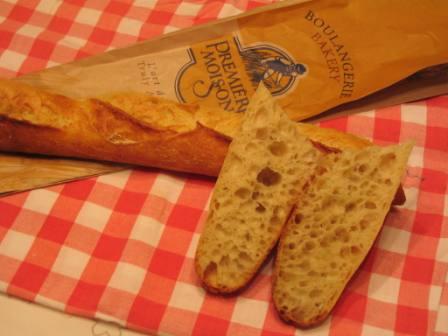 Good overall appearance. Nice golden brown crusy exterior. Smell of toasty wheat. Slight flaw with one undercooked side probably caused by the loaves being baked too close together. Creamy color and very soft open crumb with just the right amount of chewiness. Sweet tasting and a little tangy. Overall an outstanding baguette.
Probably the largest bakery in Montreal with multiple outlets throughout the city. The flour comes from Meunerie Milanaise, an organic mill in Quebec that also supplies to Daniel Leader's bakery in upstate New York.
2- L'Amour du Pain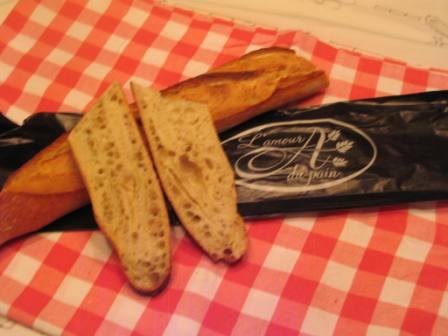 The darkest of all the baguettes with a sweet caramely smell. The crust is a litlle bit hard but the crumb is creamy with huge irregular holes. The taste is sweet with a hint of acidity. A very good baguette.
This is a Retrodor baguette made with flour imported from the Meuneries Viron in France.
3- Au Pain Dore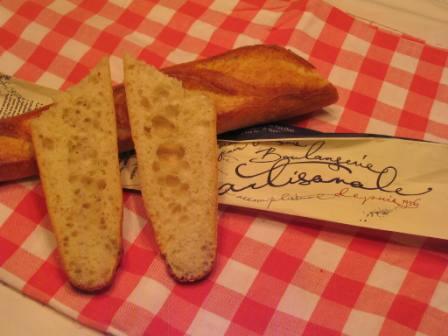 A close second in appearance to the Premiere Moisson Baguette. The crust has a wheaty smell but is not as crackly. The crumb is nicely open with good balance of softness and chewiness. Overall, a good baguette.
This baguette is made from unbleached, untreated flour and is fermented for 6 hours.
4- Le Fournil Ancestral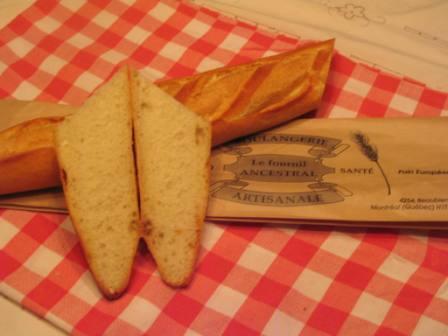 Good appearance but the lightest in color. The crust is on the soft side with no noticeable smell. The crumb is white, tight and cottony probably due to an intensive mix. Although called artisanal, this is a forgettable industrial type baguette.
Epilogue:
Following the tasting, I set out to find the flour from Meunerie Milanaise and was able to buy and bring back three 20 kilo bags of different grades of flour. I have been experimenting with the flours and will publish the results on future postings.
Don